Fuji Hakone Pass
A panoramic view of Mt. Fuji and Lake Kawaguchi from the Kachi-Kachi Yama Ropeway.
The Fuji Hakone Pass is valid for 3 days and exclusive to non-Japanese visitors. It covers excursion travel in the popular Fuji and Hakone areas.
The pass includes discount round-trip transport from Tokyo (Shinjuku) (on the Odakyu Line and the Chuo Highway Bus), unlimited use of specified transport in the Hakone and Fuji areas, and discounts on entrance and other fees to about 60 museums and restaurants.
You can take the Hakone Tozan Line, which runs along the steep slopes of Hakone's mountains, famous as tourist attractions, or the Hakone Sightseeing Cruise over Lake Ashi.
The Hakone/Fuji area is rich with nature, so you can see various landscapes in each season.
Mt. Fuji in autumn seen from the Kachi-Kachi Yama Ropeway


Enjoy shopping and a view of Mt. Fuji at Gotemba Premium Outlets®

The Kawaguchiko Art Museum on the shores of beautiful Lake Kawaguchi at the foot of Mt. Fuji

The eejanaika thrill ride is always the most popular attraction at Fujikyu Highland

Map of Fuji and Hakone

Fares and service guide

Transport and sections available to Fuji Hakone Pass holders
(Only one round trip can be made within 3 days)

(1)

Odakyu Electric Railway: Shinjuku-Odawara
You need to pay an additional Express fare to take the Odakyu Limited Express "Romancecar".

(2)

Chuo Highway Bus: Kawaguchiko Sta., Fujikyu Highland or Fujisan Sta.-Shinjuku Highway Bus Terminal

*

The Fuji Hakone Pass is a discount ticket that includes round-trip train tickets departing from/arriving to Shinjuku and bus tickets.

**

By Keio Railways Bus or Fujikyu Bus

***

All seats reserved. Prior reservation required.

Transport and sections where you can stop over as many times as you like (Valid for 3 days)

(1)

Hakone Tozan Line: Odawara-Hakone Yumoto-Gora
You need to pay an additional Express fare to take the Odakyu Limited Express "Romancecar".

(2)

Hakone Tozan Bus: all the routes within the Hakone area (except for scheduled sightseeing buses)

(4)

Hakone Cablecar: Gora-Sounzan

(5)

Hakone Ropeway: Sounzan-Togendai

(6)

Hakone Sightseeing Cruise: Togendai (harbor) - Hakone-machi (harbor)/Moto-hakone (harbor)

(9)

Fujikyu Bus: Gotemba Sta.-Kawaguchiko Sta.

(10)

Fujikyu Line: Kawaguchiko Sta.-Fujisan Sta.

Fares

| Adults | Children |
| --- | --- |
| 7,400 yen | 3,700 yen |

*

This ticket only covers departure from and arrival to Shinjuku. There are no tickets from other stations.

Validity

Valid for 3days

Where to buy

Each Freepass can be purchased at the following locations.

Special services

(1)

Comes with a handy guide map in English, Chinese and Korean, containing information on transfer points

(2)

Pass holders receive entrance fee discounts at approximately 60 facilities in the Fuji and Hakone areas.

Facilities where you can receive a discount

Hakone Area

Art and other museums

Kamaboko (steamed fishpaste) Museum of Suzuhiro Corp.
Kanagawa Prefectural Museum of Natural History
Honma Yosegi Museum
Local History Museum
Hakone Kitahara Toys Wonderland
The Hakone Open Air Museum
Hakone Museum of Art
Pola Museum of Art
Hakone Glass Forest Venetian Glass Museum
Museum of Saint-Exupery and the Little Prince in Hakone
Hakone Mononofu-no-Sato Art Museum
Lalique Museum, HAKONE
Narukawa Art Museum
Nakagawa Kazumasa Art Museum
Yugawara Art museum
Sano Art Museum

Hot springs and spas

Kappa-Tengoku
Yunosato Okada
Tenzan Tohji-kyo
Hakone Kowaki-en Yunessus / Mori No Yu
The Prince Hakone "Hakone Kohan no Yu"(hot spring bath / open-air hot spring bath)
Odakyu Hakone Lake Hotel:YUBO-MAYUNO MORI
Hakone Yuryo

Amusement and sports facilities

Hakone Gora Park Craft House (handicrafts studio)
Forest Adventure Hakone
Mori-no-Fureaikan Hall
Hakone-en Golf Course Golf Driving Range
Hakone-en Aquarium, Pottery Studio, kuzuryu-no-mori
Hotel Daihakone Tennis Courts
The Prince Hakone Tennis Courts

Restaurants

Owakudani Station Restaurant
Togendai View Restaurant
Ashinoko-chaya Tea House
Amazake-chaya
Otome-toge Fujimi-chaya Tea House
Hokone Hotel Kowaki-en (All you can eat lunch buffet)
Hakone Cafe

Botanical gardens and parks

Hakone Gora Park (show your Pass for free admission)
Hakone Botanical Garden of Wetlands
Hakone Ashinoko Wild Grass Garden
Ashinoyu Flower Center

Shopping

Odakyu Hakone Okuyumoto Hotel Hatsuhana (Shopping Area)
Hotel de Yama (Shopping Area)
Hakone Highland Hotel (Shopping Area)
Hakone-no-ichi
Hakone Tozan Meisan-ten Yumoto-eki-mae shop ("Kaisen-ichiba")
Hakone Tozan Meisan-ten Gora shop ("Shiki-no-irodori")
Cafe St. Moritz Gora shop
Gora Station Shop

Places of historic interest

Odawara Castle Donjon
Hakone-jinja shrine (Treasure Museum)
Hakone Checkpoint, Hakone Sekisho Exhibition Hall

Miscellaneous

Hakone Sightseeing Cruise Special Cabin (discount on special cabin fare (one way))
Komagatake Ropeway (discount on the fare. No free stopovers are available)
Hakone Baggage Service (baggage delivery service)

Fuji Area

Art and other museums

Fujiyama Museum
Kawaguchiko Art Museum
Honma Yosegi Museum
Kawaguchiko Muse Hall
Itchiku Kubota Art Museum
Kawaguchiko Music Forest (Museum of music boxes)

Scenic sites

Mt.Kachi-Kachi Ropeway in the Tenjo-Yama Park
"Ensoleille"(Lake Kawaguchi excursion boat)
Lake Kawaguchi Excursion Retrobus

Amusement and sports facilities

Fujikyu Highland
Hotel Highland Resort

Transport

Gotemba Area

Shopping

Parks

Chichibunomiya Memorial Park
From Shinjuku to the Fuji area
Shinjuku-Fuji Five Lakes
Shinjuku-Kawaguchiko (Lake Kawaguchi)

Chuo Highway Bus / Approx. 100 minutes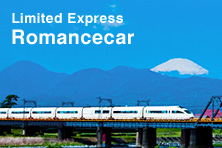 We recommend taking the comfortable "Romancecar" from Shinjuku to Hakone-Yumoto. By paying the limited express surcharge, Freepass holders are free to relax in the comfortable, reservations only, Romancecar.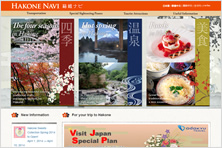 Further information on enjoyable things to do in Hakone is available.