Instructions for riding the Odakyu Limited Express Romancecar, from buying a ticket to boarding,
are provided below. We hope these tips make your journey even more enjoyable.
About the Romancecar
Important note about tickets
Both a regular ticket and a limited express ticket are needed to ride the Romancecar.
2Going through the Ticket Gate
1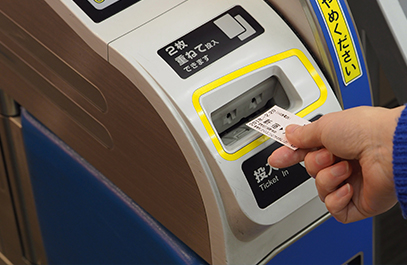 Either insert your ticket into the automatic ticket gate or scan your IC card (PASMO/Suica) on the panel.

Walk forward and collect your ticket as you exit the ticket gate.
What You Need for the Ticket Gate
2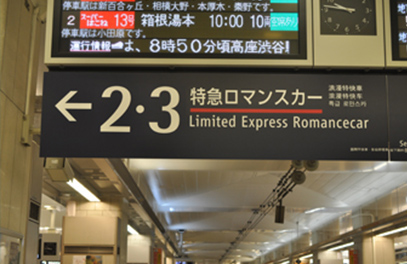 Follow the station signs to a Romancecar platform.
3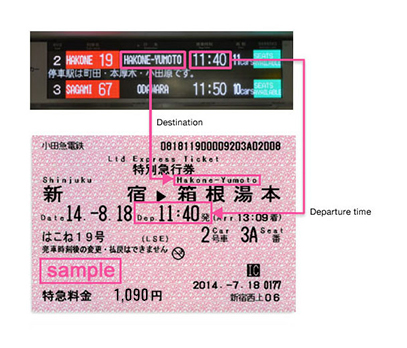 Check to make sure the Romancecar name and departure platform on your limited express ticket or e-Romancecar screenshot match the information on the platform information sign.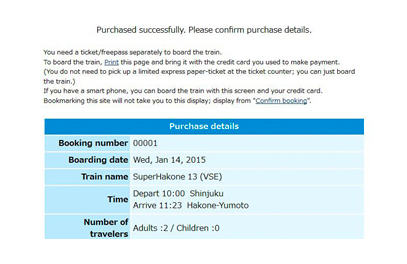 e-Romancecar purchase confirmation page
3Boarding and Departure
Boarding and Finding Your Seat
Check the car number and type on your limited express ticket, and follow the platform signs to the boarding position for your car.
Climb on board after the train arrives. If boarding at the first station, there may be a boarding delay until car preparation and cleaning are complete.
Finding Your Seat
Check your limited express ticket for your reserved seat number, settle into your seat and enjoy a comfortable ride on the Odakyu Limited Express Romancecar.