The Izu Peninsula is a resort area of rugged mountains surrounded by the sea and the Pacific Ocean.
On the Odakyu Limited Express Romancecar, Izu is about 120 minutes away from Shinjuku with a transfer at Odawara Station. Izu, a peninsula jutting out into the Pacific Ocean, is famous for its beautiful beaches, plentiful hot springs (onsen) and wonderful scenery.
The Izu Peninsula offers a rich array of places to stay and visit, including the highland resort of Ito, the rugged coastline of Jogasaki, and the tranquil, white sandy beaches of Minami-Izu. The local restaurants offer the freshest fish caught in the local coastal waters, and vegetables and succulent wild boar from the mountains. The area serves as the setting for "The Izu Dancer," a short story by Nobel Prize winner Yasunari Kawabata. A monument of the steamship jetty that appars toward the end of the story has even been erected in Shimoda.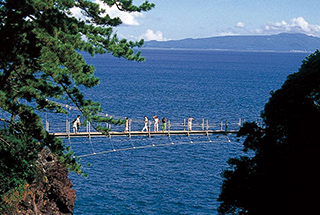 Jogasaki (Kadowaki suspension bridge)
The Kadowaki Suspension Bridge in Jogasaki will turn your legs to jelly.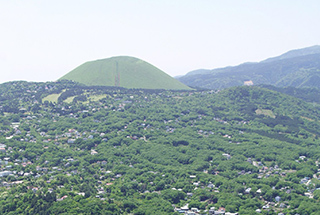 Mount Omuro Lift
This aerial lift spirits you to the peak of Mount Omuro, 580 meters high, where you can enjoy an unobstructed 360-degree panorama with a view stretching as far as Fuji-Hakone and the Izu Islands.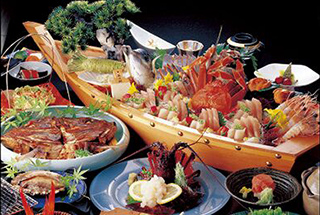 Fresh seafood
The attractions of Ito include superb fresh seafoods such as abalone, turban shell, and lobster delivered from the local boats straight to your plate.

Odakyu Limited ExpressRomancecar
With just the addition of a limited express surchage, use your Discount Pass to enjoy the relaxed comfort of the Romancecar with reserved only seating. See the website for fares, sales locations and other information.

60 minutes
Browse vacant seats for Limited Express Romancecar


Online Purchase System