The hiking trails, only a short journey from Tokyo, give beautiful views of the four seasons.
Tanzawa-Oyama, just a short ride from Tokyo, is an area known for its natural mountain beauty and especially famous for its hiking trails. The area's gateway Isehara station is less than an hour away from Shinjuku on Odakyu. In addition to the spectacular views from the mountains, the contrast between the mountain scenery and Lakes Miyagase and Tanzawa and the beauty of the budding plants in spring and the flames of red and yellow leaves in autumn will leave you enchanted.
Not only can your eyes feast in the joys of the four seasons, but also certainly worth a visit are such historical sites as Oyama-dera temple and Oyama-Afuri-jinja shrine. In addition to hiking up the mountain, take a ride on the Oyama cable car for an extra delight. Sumptuous dishes made from local ingredients and the pure waters of Oyama are also very popular. Its tofu is so famous that people even say, "Oyama is tofu, and tofu is Oyama."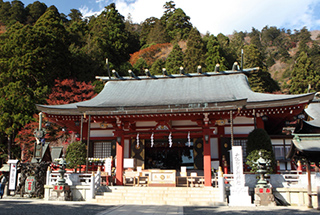 Oyama-Afuri Shrine
Oyama Afuri shrine was originally a part of Oyama-dera Temple but was moved to its current location during the Meiji period. The shrine is believed to have been established in the 3rd century, and still sits quietly and elegantly against the beautiful mountain backdrop.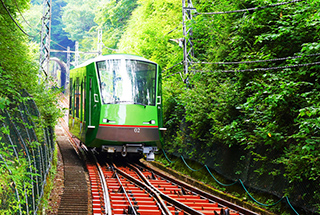 The Oyama Cable Car
The Oyama Cable Cars serving Tanzawa-Oyama Quasi-National Park cover the 800 meters between Oyama Cable Station and Afuri shrine in 6 minutes.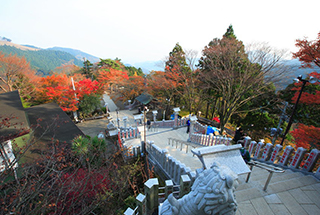 The Oyama-dera temple
Built in 755, Oyama-dera temple has a long history. Its solemn appearance blends in beautifully with the natural mountain setting, and the autumn leaves there are particularly notable.