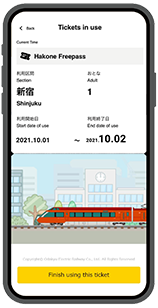 Odakyu's Discount Passes are now available for purchase online at any time through EMot Online Tickets! Enjoy all the benefits of Odakyu's Discount Passes including round-trip tickets on the Odakyu Line, unlimited rides on transportation networks in designated areas, and special perks and discounts at participating establishments!
Point 1
No more visits to ticket counters

No need to wait in line, so you can safely practice social distancing

Purchase with smartphone anywhere, anytime
Point 2

Pay by credit card
Point 3

No need to worry about losing your ticket
Tickets
* Please refer to the terms of use on the EMot Online Tickets website when purchasing digital tickets.
* Digital tickets are for smartphones only. Please access them using your smartphone.
* Each person purchasing a digital ticket must have a smartphone. More than two digital tickets of the same type cannot be used at the same time on a single smartphone.
How

to use?

Purchase

STEP 1
Go to the EMot Online Tickets website and select the area.

STEP 2
Select the ticket you wish to purchase.

STEP 3
Check the ticket details, precautions, etc., then tap the "Go to purchase procedure" button.

STEP 4
Select the departing station, starting date of use, and other necessary info, check the "Agree to Precautions and Terms of use" box, then tap the "Next" button.

STEP 5
Enter your email address then tap the "Send" button. You will receive a verification code via email.
* Social login is also available
* Those already logged in should continue to STEP 8

STEP 6
Enter the verification code, then tap the "Send" button.

STEP 7
Follow the on-screen instructions and register your credit card information.

STEP 8
Tap the "Confirm purchase with above information" button to complete your purchase.

STEP 9
Tap the "Check ticket" button to confirm that the ticket you purchased is displayed in the "List of owned tickets."

STEP 10
If the ticket you purchased is listed in the "List of owned tickets," your purchase is complete.

Use

STEP 1
Go to the EMot Online Tickets website and select "My Page" from the menu.

STEP 2
Select "List of owned tickets" from "My Page."

STEP 3
Tap the "Use" button of the ticket you wish to use.

STEP 4
Tap the "Start using this ticket" button.

STEP 5
The animated ticket screen will be displayed.

STEP 6
When you get on or off the train, bus, or other transportation, please show the animated ticket screen to a bus driver, or to a station attendant at a manned ticket gate.
* If you wish to take advantage of special offers and discounts included with the Discount Passes, please show the animation screen to the staff at said facility.
Purchase

EMot Online Tickets is the official provider of
Odakyu's digital tickets.
(Smartphone only)