Here we look at some of the many places you can enjoy using the Odakyu Line.
Learn about new and exciting attractions and then check them out with Odakyu!
Confectionery with a gentle sweet flavor

Oyama Manju Roben
Since the Edo period, Oyama has attracted many worshippers and visitors all hungry for such popular sweet cakes as Taishi Manju and Afuri Mine. They are still made by the confectioners Roben, and have long been a favorite of travelers, especially after a long journey. Taishi Manju is characterized by the gentle sweetness of brown sugar, and Afuri Mine is a baked cake made with walnut, eggs, and honey. Both are perfect as souvenirs.

Oyama's spinning tops spin good fortune

Oyama has abundant supplies of timber, and from the Edo period, the region's skilled craftsmen have been turning wooden tops. In Japan, spinning tops are considered as charms to bring in good fortune, family wellbeing, business prosperity or good crops. Today, the spinning tops of Oyama are still crafted by traditional methods to achieve their characteristic rich colors and elaborate shapes, and they are a perfect souvenir choice. The approach leading to Oyama cable lined with shops is aptly named Koma Sando (Spinning Top Avenue).

View the Buddhist statue at Oyama-dera Temple, a symbol of Oyama

Oyama-dera Temple
Oyama-dera Temple was built in 755, and has a very long venerable history. Its majestic appearance blends in beautifully with the natural mountain setting, and the scenery during the season of autumn leaves is particularly spectacular. Every year during the fall of the autumn leaves, the temple is gently illuminated in the evenings; truly magical. The statues of Fudo Myo-o (Acalanatha) and Two Attendants located in the temple are rare metal Buddhist statues and designated as an important cultural property.

A quiet shrine with a long history

Oyama Afuri Shrine
Oyama Afuri shrine was originally a part of Oyama-dera Temple but was moved to its current location during the Meiji period. The shrine is believed to have been established in the 3rd century, and still sits quietly and elegantly against the beautiful mountain backdrop.

Taste 400 years of history in the making

Togakubou Yusui Koubo
The rich pure waters of Tanzawa-Oyama are the blessings of rain and spring water, and the special taste of the region's superb tofu relies on the quality of this abundant water. The Togakubou restaurant has been serving tofu kaiseki for over 400 years, and as you would expect, they are pretty good at it by now; the delicate flavor and elegant presentations, which are almost like works of art, will delight your eye and your palette. At the Togakubo Wakimizu Kobo, located just across from the restaurant, you can purchase tofu, yuba (fresh tofu skin) and soya milk as souvenirs.
Suggested ItinerariesView All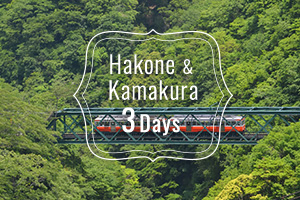 Board the Odakyu Railway for a three-day, two-night tour of the line's best sightseeing locales! The quaint atmosphere of Hakone, the historical capital of Kamakura, and the lovely coastal views of Enoshima—you can see them all with your three-day Hakone Kamakura Pass.
There are many locations along the Odakyu Line known for their spiritual power.

A course well suited for active travelers, where the charms of Hakone, such as the magnifi cent Mt. Fuji, the talked-about the museum and onsens (hot springs), can be experienced in a day.

A 3 day course which will take you to the Fuji area, where you can enjoy a good view of Mt. Fuji, from Hakone. You are sure to enjoy not only sightseeing, but shopping and amusement park as well.

Odakyu Limited ExpressRomancecar
With just the addition of a limited express surchage, use your Discount Pass to enjoy the relaxed comfort of the Romancecar with reserved only seating. See the website for fares, sales locations and other information.

80 minutes
Browse vacant seats for Limited Express Romancecar


Online Purchase System