Here we look at some of the many places you can enjoy using the Odakyu Line.
Learn about new and exciting attractions and then check them out with Odakyu!
Shimo-Kitazawa

Shimo-Kitazawa is a lively area that has the reputation for being a young person's town. There are many theaters, live music venues, record shops and second hand clothes stores all gathered closely together in this district. Visit one of the popular live music venues Shimokitazawa Shelter and QUE and maybe you will discover one of Japan's next pop sensations!

Hon-Atsugi Mylord

Directly connected to Hon-Atsugi Station is Hon-Atsugi Mylord, a shopping centre spread over two connected buildings, each with a basement and 7 floors above ground. In Mylord 1, not only can you enjoy great Japanese food at one of the restaurants, or go shopping for Japanese utensils and craft goods for that perfect souvenir to take home, there is also a wide range of women's fashions to explore, from designers in Japan and around the world. Mylord 2 offers furniture, a culture school, relaxation, and nail salons. It is full of a variety of shops that cater to all different kinds of needs. Just looking around the two Mylords could be a day out in itself!

Kyodo Corty

The four story shopping center right next to the Kyodo station is Kyodo Corty. Climb the stairs to the fourth floor and you will find a spacious rooftop garden waiting for you. From here you can watch the Odakyu line trains running right below, and on fine days you can even see Tokyo Skytree and Mount Fuji. Kyodo Corty is a space where you can relax and enjoy shopping and good food.

Seijo Corty

When you leave the central exit of Seijogakuen-mae Station you will find a bright open space right in front of you, with stairs and an escalator leading upwards. Go up the escalator to the 2nd floor, and you will find a wide array of fashionable shops waiting for you, including a large bookstore, furniture stores and fashionable boutiques selling accessories from all over Japan. Seijo Corty is built right on top of Seijogakuen-mae station, so from the rooftop garden on the eastern side, you can look out and watch the trains running straight off into the distance.

Kawasaki City Fujiko・F・Fujio Museum

This is a museum dedicated to the father of the world-renowned character Doraemon. From exhibits recreating the world of Doraemon, to a cafe with an original menu based on the creator's works, the museum brings to life the world of Fujiko・F・Fujio in a way that you can only experience here. Take home some of the original goods from the museum shop that cannot be found anywhere else, and they are sure to provide a pleasant memory for you.

See More

Address

2-8-1 Nagao, Tama-ku, Kawasaki City, Kanagawa

Tel

URL

Ikuta Park, Nihon Minka-en

Ikuta Park, is a large park with natural features, such as groves of mixed trees, and cultural facilities as well, including the Taro Okamoto Museum of Art, the Fujiko・F・Fujio Museum, and the Kawasaki Municipal Science Museum. Nihon Minka-en, with its collection of valuable historical buildings, primarily traditional Japanese architecture from the early modern Edo Period (1603-1868), is well worth seeing. When you walk through the collection of historical buildings gathered from all over eastern Japan and beyond, you will feel like you have stepped onto the set of a historical movie.

See More

Address

7-1-1 Masugata, Tama-ku, Kawasaki City, Kanagawa

Tel

URL

Yomiuri-Land

Starting with the popular High speed roller coaster "Bandit", there are a whole lot of scream machines here, including the new coaster "Twist Machine", which opened in 2014. In summer you can enjoy three slides and five pools at the Fiji themed water park "WAI". In winter, the two million sparkling jewels of "Jewellumination" light display are highly popular. After enjoying yourself at the amusement park, you can enjoy relaxing at the spa facility "Oka-no-yu" which includes a large outdoor bath.

Vinawalk / Vinawalk Odakyu Train Gallery

Vinawalk is the name of a large shopping center in front of Ebina station. It is a colorful mall, with many original shops. Out of these, we would like to recommend the model train specialty store "Popondetta with Odakyu Train Gallery". After looking at the large diorama, with model trains running freely over its many tracks, and the display corner which features a drivers seat and controls taken from an actual Odakyu Line Train, you will feel a little bit like a railway expert yourself.

A river where you will meet Mt Fuji and the Romancecar

Leave the south exit of Shin-Matsuda Station, and walk for about 10 minutes toward the Sakawagawa River, and you will see a railway bridge over which the Odakyu Line trains run. In fact, is famous as a place where you can see Mt Fuji and Odakyu Line Trains together. A lot of photographers visit here to capture the Romancecar and Mount Fuji in the same shot. If you check the timetable of the Romancecar on the timetable page, or at the train station, you may be able to get there at just the right time to see the Romancecar passing by.

Odawara Castle

Odawara Castle was famous for being a castle with strong defenses that was impossible to capture. The current castle keep was reconstructed in 1960. based on the original plans. The inside houses exhibits related to the history of the castle. The highest floor is 60m above sea level and from here you can see out over all of Odawara City and Sagami Bay and enjoy the feeling of being a medieval Daimyo (the master of Odawara Castle).

Tokyo Camii

Tokyo Camii is the largest Islamic Mosque in Japan. It is a large beautiful building that has been exquisitely decorated by Turkish craftsmen. Anyone, not only Muslims, is free enter to view the mosque. Of course it is a holy place, so you should avoid wearing clothes, such as miniskirts or short pants, that expose a lot of naked skin when you enter the prayer hall and be careful not to interrupt the prayers. Women should also wear a scarf covering their head. Tokyo Camii is open from 10 a.m. to 6 p.m. 365 days a year.

Sanrio Puroland

Sanrio Puroland is a theme park where you can enjoy liver shows and other attractions featuring Hello Kitty and other Sanrio characters that are loved around the world.

Meiji Jingu

Meiji Jing is a shrine located in a small patch of forest that is so peaceful, you would not know you were in the center of Tokyo.

Parthenon Tama

Parthenon Tama contains a museum and a hall where plays and concerts are held. It is constructed according to a symmetrical design centered around a set of monumental stairs that climb up to the top of the hill.
Suggested ItinerariesView All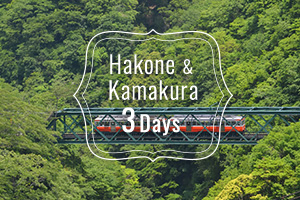 Board the Odakyu Railway for a three-day, two-night tour of the line's best sightseeing locales! The quaint atmosphere of Hakone, the historical capital of Kamakura, and the lovely coastal views of Enoshima—you can see them all with your three-day Hakone Kamakura Pass.
There are many locations along the Odakyu Line known for their spiritual power.

A course well suited for active travelers, where the charms of Hakone, such as the magnifi cent Mt. Fuji, the talked-about the museum and onsens (hot springs), can be experienced in a day.

A 3 day course which will take you to the Fuji area, where you can enjoy a good view of Mt. Fuji, from Hakone. You are sure to enjoy not only sightseeing, but shopping and amusement park as well.

Odakyu Limited ExpressRomancecar
With just the addition of a limited express surchage, use your Discount Pass to enjoy the relaxed comfort of the Romancecar with reserved only seating. See the website for fares, sales locations and other information.

80 minutes
Browse vacant seats for Limited Express Romancecar


Online Purchase System