Here we look at some of the many places you can enjoy using the Odakyu Line.
Learn about new and exciting attractions and then check them out with Odakyu!
Haru Chika

Haru Chika takes its name from the Odakyu HALC basement. As the name suggests, at levels B3F and MB3F of Odakyu HALC, there are Alice in Wonderland-themed restaurants and beer halls, as well as eight unique restaurants arranged as a collection of food stalls specializing in delicious inexpensive foods such as okonomiyaki and yakitori. This area is especially popular with women and young people.

See More

Address

Odakyu HALC B3F and MB3F, 1-5-1 Nishi-Shinjuku, Shinjuku-ku, Tokyo

Tel

URL

Hotel Century Southern Tower: an ideal base for sightseeing

Hotel Century Southern Tower is located in the South Exit area of the Southern Terrace. With its convenient location, just a three-minute walk away from Shinjuku Station, the hotel is the perfect base for Tokyo sightseeing. Spectacular views of Tokyo can be enjoyed from guest rooms located between the 22nd and 35th floors. Also make sure that you check out TRIBEKS, a French inspired restaurant with a rich selection of wines, as well as the long-established Japanese cuisine of Horikawa.

See More

Address

Hotel Century Southern Tower, 2-2-1 Yoyogi, Shibuya-ku, Tokyo

Tel

URL

Shinjuku: a culinary center

Shinjuku is truly a culinary center. As well as high-class restaurants, it has over 1,000 eating places ranging from tiny shanty-style bars, in Omoide Yokocho near the West Exit and in Golden-gai Street in Kabuki-cho, to large izakaya bars and specialist restaurants serving global cuisines. There are also fresh ingredients as well as luxury Japanese and Western-style confections to be found in the "depa-chika" (the basement floors of department stores where delicatessens are located) at Odakyu Department Store. If you are unsure of what to eat, we strongly recommend the Manhattan Hills restaurant floors, which are located near the top of Odakyu Department Store, where the previously introduced Nadaman Hinkan is also situated.

Hyatt Regency Tokyo: a high-class hotel experience

Hyatt Regency Tokyo is the only five-star hotel in Shinjuku, and it is located in an area slightly out of the way of the hustle and bustle of central Shinjuku. The hotel is renowned for its luxurious facilities and excellent hospitality. Visitors will enjoy the popular French restaurant Cuisine[s] Michel Troisgros and exquisite relaxation provided at Joule Spa & Wellness. The hotel is directly linked to airports by limousine bus services, and a complimentary shuttle bus service operates between the hotel and Odakyu HALC at Shinjuku Station.

Shinjuku Gyoen National Garden

Shinjuku Gyoen National Garden is one of Japan's most famous gardens, with three distinct styles of garden - French formal, English landscape, and Japanese traditional - and visitors can enjoy seasonal flowers in bloom. In March and April, visitors are welcomed by 1,300 blossoming cherry trees.

*Please do not play sports or musical instruments. Please do not consume any alcohol brought from outside.

Shrine at the center of megalopolis

The building of Hanazono Shrine quietly exists within the megalopolises of Shinjuku. In its extensive precincts, occasional shows and weekend antique markets entertain the visitors. (Closed in rainy weather) You may pick up a kimono or some traditional handicraft bargains.

Tokyo Metropolitan Government

The building of the Tokyo Metropolitan Government consists of twin towers at a height of 48 stories.
From two observation decks open free of charge to the public, one in each tower at the 45th floor, a panoramic view of Tokyo can be enjoyed from a height of 202m.
Tokyo landmarks such as Tokyo Tower and Tokyo Skytree can be sighted, and even Mt. Fuji can be seen in the distance if the weather is good.

See More

Address

Tokyo Metropolitan Main Building No. 1, 8-1 Nishi-Shinjuku 2-chome, Shinjuku-ku, Tokyo

Tel

URL

Odakyu Department Store Shinjuku

Odakyu Department Store is a large department store connected to Shinjuku Station and has two basement floors as well as 14 floors above ground. It has one of the largest cosmetics sections of all Tokyo department stores, bringing together 50 renowned global and Japanese brands. Visitors will also find a wide range of stores selling popular accessories, luxury fashion brands, male fashion items, and even a Sanrio store for children. In addition, its "depa-chika" (the basement floors of a department store) is always very busy thanks to its variety of delicatessens and popular Japanese and Western-style confections. On the 1st floor, there is an information desk for foreign visitors, and an interpretation service and a shopping attendant service are provided in English and Chinese languages. The tax-free processing desk is located on the 2nd floor.

See More

Address

Odakyu Department Store, 1-1-3 Nishi-Shinjuku, Shinjuku-ku, Tokyo

Tel

URL

Shinjuku Station West Exit HALC

HALC is home to electronics retailer Bic Camera as well as a selection of sports and fashion stores.
Find travel-friendly fashion at HALC Sports, located between the 1st floor underground and the 2nd floor above ground, or search for a cutting-edge camera with which to capture good memories of your trip at Bic Camera, located between the 2nd and 6th floors.

See More

Address

Odakyu HALC, 1-5-1 Nishi-Shinjuku, Shinjuku-ku, Tokyo

Tel

URL

Shinjuku Mylord / Mosaic Street

At Mylord, there are around 100 stores specializing in the female fashion and accessories for teens and people in their twenties, and the range of attractive items available here is almost limitless. In addition, Mosaic Street, which connects the West Exit and the South Exit, has a series of stores favored by fashionistas - this is definitely a fun place to explore.

Flags

With its selection of stores including major music retailer Tower Records, outdoor brand OSHMAN'S, and many other renowned youth fashion brands, Flags is a top destination for the fashionable youth of Tokyo.

Horikawa

Horikawa, a long-established Japanese restaurant offering a wide range of Japanese foods, including sushi, teppanyaki and kaiseki, is located in the Hotel Century Southern Tower right next to Shinjuku Station. Enjoy Japanese food with the best of seasonal ingredients.

See More

Address

19th floor, Hotel Century Southern Tower, 2-2-1 Yoyogi, Shibuya-ku, Tokyo

Tel

URL

Odakyu Ace

Odakyu Ace, which consists of a northern and southern building, can be accessed without worrying about getting soaked on rainy days as it is located underground beneath the West Exit at Shinjuku Station. Please be sure to stop by when coming to Shinjuku Station because in addition to offering various activities such as eating at restaurants and cafes and purchasing popular fashion items and the latest goods, there are also duty-free shops as well as stores that accept China UnionPay card where you can enjoy shopping at discounted prices.

See More

Address

West Exit Underground Shopping Center No. 1, 1 Nishishinjuku, Shinjuku-ku, Tokyo

Tel

URL

Nadaman Hinkan

This Japanese restaurant is located in the Manhattan Hills restaurant area of Odakyu Department Store. As well as special counters for sushi, tempura and teppan steak, there are also private rooms that can cater for groups of between 4 and 30 people.

See More

Address

14th floor, Manhattan Hills, Odakyu Department Store, 1-1-3 Nishi-Shinjuku, Shinjuku-ku, Tokyo

Tel

URL

The Appeal of Shopping in Shinjuku

In the area between the West Exit and the South Exit of Shinjuku Station, there is a shopping district called Terrace City, which is operated by the Odakyu Group and features Odakyu HALC, Odakyu Department Store, Mosaic Street, Mylord, Southern Terrace, and Hotel Century Southern Tower. Visitors can enjoy vibrant shopping with hotel and gourmet dining experiences, luxury brands, casual fashion and consumer electronics. Shinjuku is home to many popular retailers that are consistently noted in Japanese tourism guidebooks, such as electronics retailers, drugstores, Muji and UNIQLO. There is nothing that you cannot buy in Shinjuku.

Terrace City
Suggested ItinerariesView All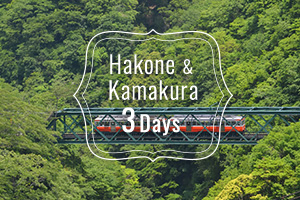 Board the Odakyu Railway for a three-day, two-night tour of the line's best sightseeing locales! The quaint atmosphere of Hakone, the historical capital of Kamakura, and the lovely coastal views of Enoshima—you can see them all with your three-day Hakone Kamakura Pass.
There are many locations along the Odakyu Line known for their spiritual power.

A course well suited for active travelers, where the charms of Hakone, such as the magnifi cent Mt. Fuji, the talked-about the museum and onsens (hot springs), can be experienced in a day.

A 3 day course which will take you to the Fuji area, where you can enjoy a good view of Mt. Fuji, from Hakone. You are sure to enjoy not only sightseeing, but shopping and amusement park as well.

Odakyu Limited ExpressRomancecar
With just the addition of a limited express surchage, use your Discount Pass to enjoy the relaxed comfort of the Romancecar with reserved only seating. See the website for fares, sales locations and other information.

80 minutes
Browse vacant seats for Limited Express Romancecar


Online Purchase System