Here we look at some of the many places you can enjoy using the Odakyu Line.
Learn about new and exciting attractions and then check them out with Odakyu!
Udon of Yoshida

Udon is a popular Japanese noodle dish, and the Yoshida udon made in the region at the foot of Mount Fuji is known for its firm texture. There are more than 60 restaurants serving Udon in Yoshida city but each restaurant's soup and ingredients are unique and no two taste the same. Many of them only open for lunch, so please check the times to avoid disappointment.

Fuji Choubou No Yu Yurari

Relaxing in its open-air baths, you can enjoy a wonderful view of Mount Fuji. There are as many as 16 types of baths including a cave bath and sand steam bath.

Mt. Kachi-Kachi Ropeway

Mt. Kachi-Kachi
The Ropeway is named after a famous Japanese children's story. You can enjoy a view of Lake Kawaguchi from 1,075m, and the close up view of Mount Fuji is wonderful. Visitors and their children are delighted by the cute bunny and raccoon character Ropeway welcome.

See More

Address

1163-1 Asakawa, Fuji kawaguchiko-cho, Minami Tsuru-gun, Yamanashi-ken

Tel

URL

Fujikyu Highland

Fujikyu Highland
The Fujikyu Highland amusement park has as many as 14 rides appearing in the Guinness Book of World Records. Scare yourself with the roller coaster Fujiyama with its gigantic rise and drop of 70m. Its unique attractions are famous among thrill seekers in both Japan and throughout the world, and Fujikyu Highland is much appreciated by aficionados for the sheer numbers of thrill rides and their unrivalled quality. Better hold on to your hat!

Oshino-hakkai (Eight Springs of Mount Fuji)

The Eight waters of Mount Fuji spring located a few kms from Lake Yamanaka are called Oshino-hakkai. Their water takes 20 years to filter through the ground and is so clear you can see even the fish swimming on the bed.

Gotemba Premium Outlets®

The Gotemba Premium Outlets® has a great view of Mount Fuji and was the first to bring the trend of outlet shopping to Japan. It has around 210 shops offering many well-known brand labels at discount prices and is always thronged with many visitors.

Highland Resort Hotel & Spa

At the Highland Resort Hotel & Spa close by Fujikyu Highland, you will find the traditional Japanese themed natural hot spring spa of Fujiyama Onsen. Modeled on a traditional Japanese farmhouse, the timber framed Machiya-zukuri style communal bath has a 12m high ceiling and 330m2 of floor area, which is the largest public bath in Japan.
Suggested ItinerariesView All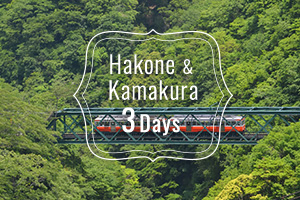 Board the Odakyu Railway for a three-day, two-night tour of the line's best sightseeing locales! The quaint atmosphere of Hakone, the historical capital of Kamakura, and the lovely coastal views of Enoshima—you can see them all with your three-day Hakone Kamakura Pass.
There are many locations along the Odakyu Line known for their spiritual power.

A course well suited for active travelers, where the charms of Hakone, such as the magnifi cent Mt. Fuji, the talked-about the museum and onsens (hot springs), can be experienced in a day.

A 3 day course which will take you to the Fuji area, where you can enjoy a good view of Mt. Fuji, from Hakone. You are sure to enjoy not only sightseeing, but shopping and amusement park as well.

Odakyu Limited ExpressRomancecar
With just the addition of a limited express surchage, use your Discount Pass to enjoy the relaxed comfort of the Romancecar with reserved only seating. See the website for fares, sales locations and other information.

80 minutes
Browse vacant seats for Limited Express Romancecar


Online Purchase System