Visit Hakone to enjoy hot springs! Seven inns with open-air baths in every room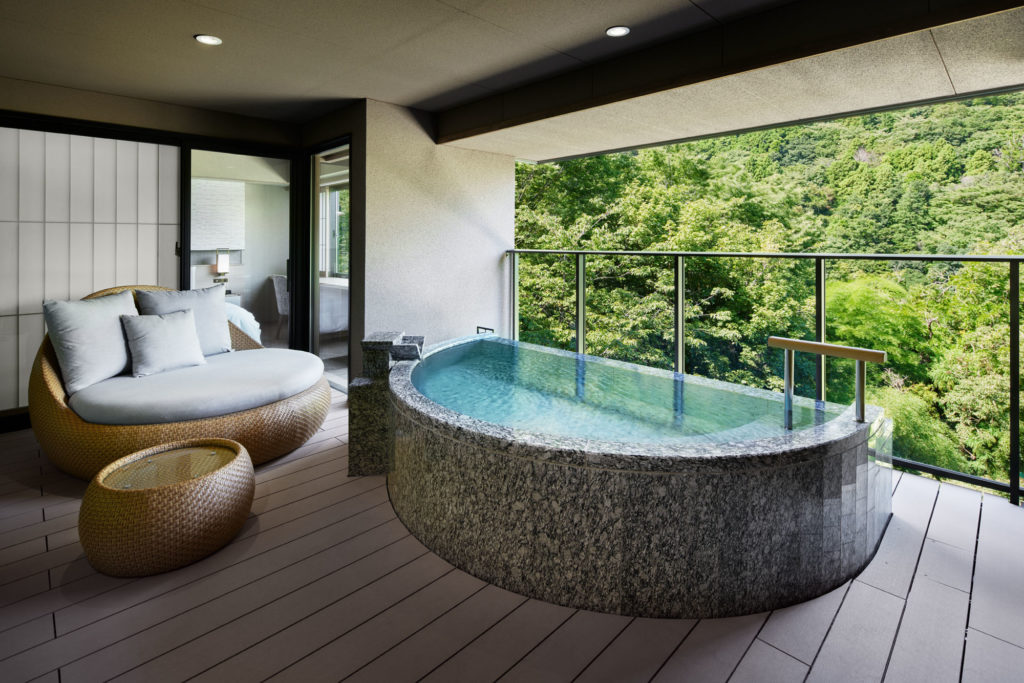 Once you have come all the way to Hakone, we hope that you take the opportunity to fully enjoy the local popular hot springs.
For international tourists who want to enjoy privacy, who want to be able to enjoy sitting in hot springs as long as they like whenever they like, or who have tattoos but still want to enjoy hot springs, we recommend inns with guest rooms that feature open-air baths.
Being able to enjoy hot springs in the privacy of your own room whenever you feel like it, all day long, is a supremely luxurious experience.
Hot spring time, uninterrupted by anyone while savoring the scenery of Hakone's rich natural environment, will relax you both mentally and physically and become the best memory of your trip.
This article introduces seven hot spring resorts recommended for international visitors, with open-air baths in every room.

*Please note that guests with tattoos are not permitted to enter the large public baths.
Recommended Hakone Accommodations
Gora
A villa where you can enjoy chakaiseki-style kaiseki cuisine that changes monthly and rich hot springs / Setsugetsuka Bettei Suiun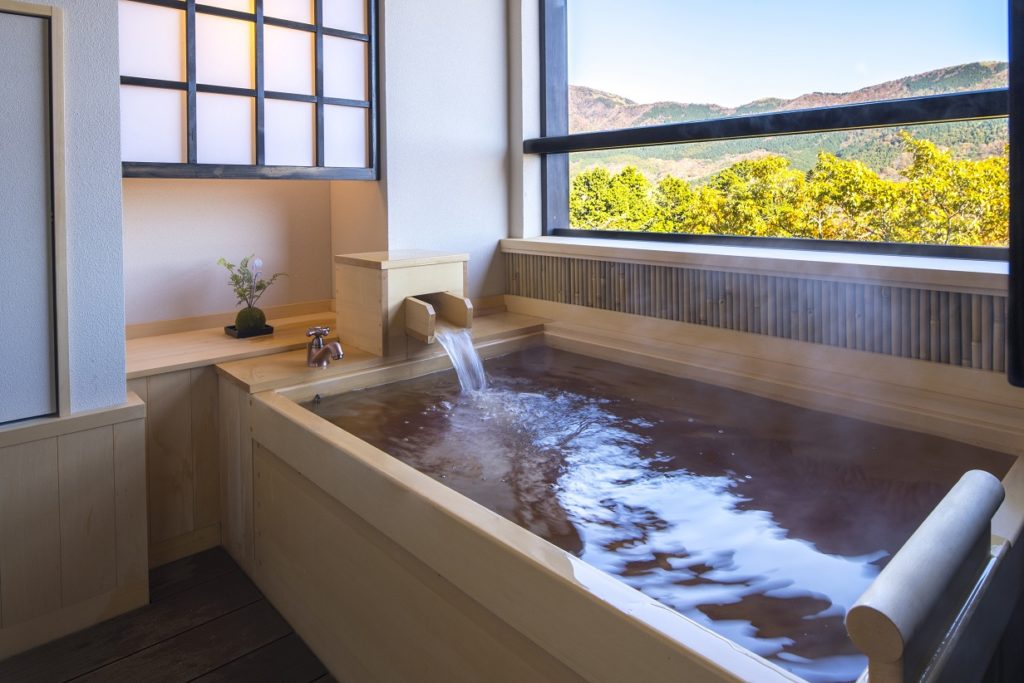 A hot spring resort where you can enjoy a more luxurious stay, and that originated as a villa of Hakone Gora Onsen Toki no yu Setsugetsuka. The guest rooms are decorated in Japanese style featuring lots of wood, and offer views of the forest that differ by season, including Myojogadake, one of the outer rim mountains of Hakone, which can be seen from the windows. All 43 guest rooms are equipped with an outdoor hot spring bath made of Japanese cypress. You can enjoy the hot springs with a view of the natural environment and surrounded by the fragrance of Japanese cypress.
As you enter the tatami-floored lobby from the entrance of the inn, you can experience the moderate softness and warmth of tatami mats with the bottoms of your feet. Your stay, during which you will enjoy elegant and extraordinary experiences, has begun.
*Myojogadake is not visible from the windows of some room types. However, all of the rooms available for reservation via this website offer enjoyable views of Myojogadake and other beautiful mountains.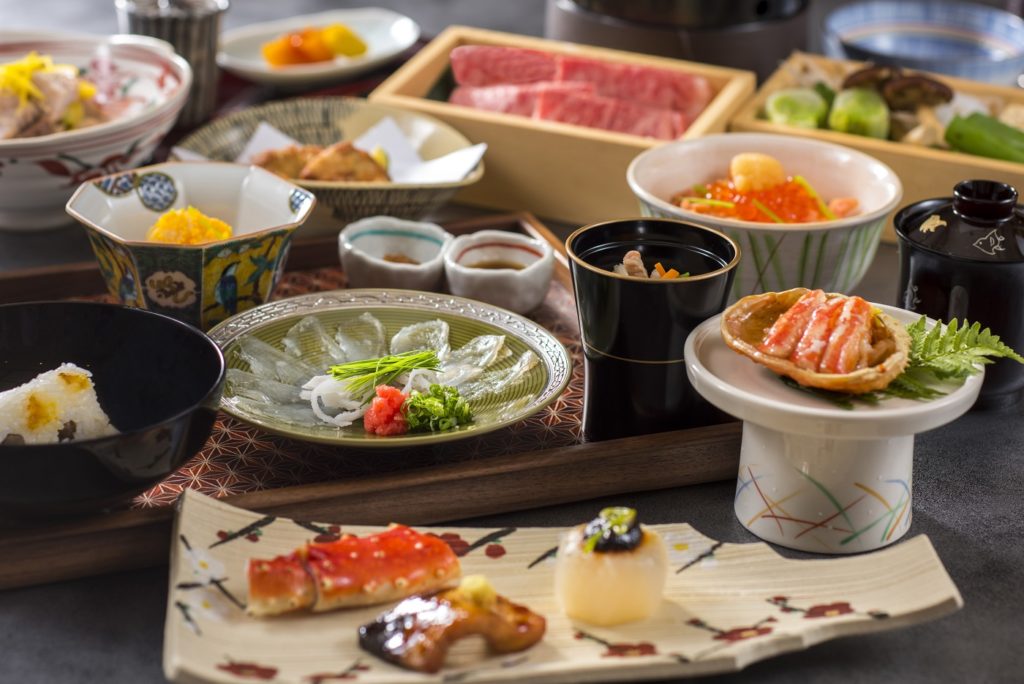 All dining rooms are either semi-private or private, so you can enjoy meals and conversations without worrying about your surroundings. We invite you to enjoy Japanese kaiseki cuisine made using seasonal ingredients in a private and relaxing atmosphere. You can enjoy carefully selected ingredients, preparation methods that bring out their best, meticulous serving arrangements, and special dishware. The harmony between these produces tastes that differ by season. Another fun point is that you can select from among three types of side dishes and hot dishes listed on the kaiseki cuisine menu. For breakfast, you can enjoy freshly prepared tofu with a melt-in-your-mouth texture, or you can choose Western-style dishes according to your preferences and mood.
Recommended Hakone Accommodations
Oku-Yumoto
A resort embraced by the majestic Mt. Yusaka and known for its beautiful cuisine / Hatsuhana
Premium C Type
Premium B Type
You can enjoy an open-air bath in your own room while gazing at the majestic Mt. Yusaka. This inn offers high-quality accommodations where you can relax both mentally and physically as you soak in the hot spring water. In addition, there are two large public bathing areas equipped with open-air baths where you can enjoy an unobstructed view of the seemingly-endless scenery and feel as if you are blending into nature. There are also four private baths decorated in different styles, including a hot spring surrounded by fantastic optical fiber lighting reminiscent of fireflies and an open-air bath with the soothing sounds of the flowing river and hot spring water. The private baths enable you to enjoy the hot springs with more privacy, and trying each of the baths in turn to your heart's content is another way to enjoy your stay.

*Private baths must be reserved in advance. Please either call in advance or make a reservation when checking-in. (Same-day reservations are subject to availability.)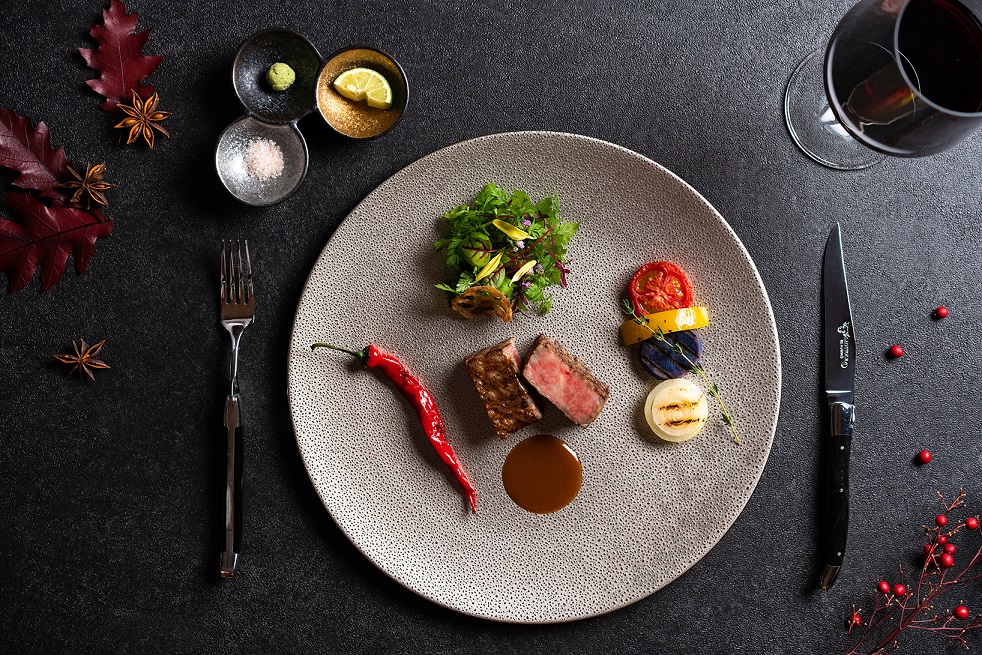 The inn's restaurant is named Hana-emi, which means "flower laughter" and conveys a sense of "gorgeous as a blooming flower." It is an ancient word that can be found in Manyoshu, an 8th century anthology of Japanese poetry. The name was chosen out of a desire for the restaurant to be a place of lively and invigorating conversation. The interior of the restaurant is entirely divided into private rooms, creating a very private atmosphere. Using carefully selected seasonal ingredients and incorporating Western elements, the restaurant offers modern Japanese cuisine unfettered by the boundaries of kaiseki cuisine. A sommelier and kikisakeshi (sommelier of Japanese sake) are always on hand to provide advice on pairing with cuisine. The cuisine, including breakfast, is a beautiful fusion of Japanese and Western elements. It is gorgeous to behold, deeply flavorful, and will become a lasting memory of your trip.
Recommended Hakone Accommodations
Gora
Harmony with furniture by masters of the modern Japanese design world / Hakone Gora Byakudan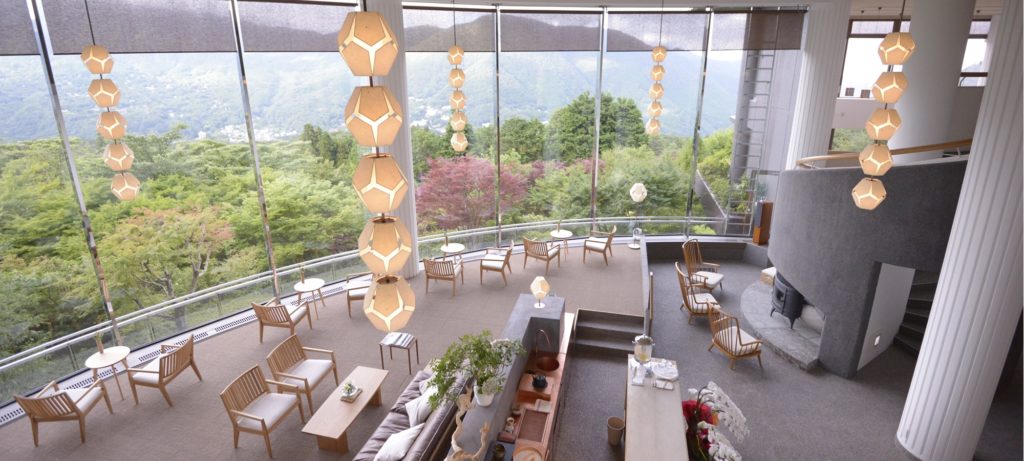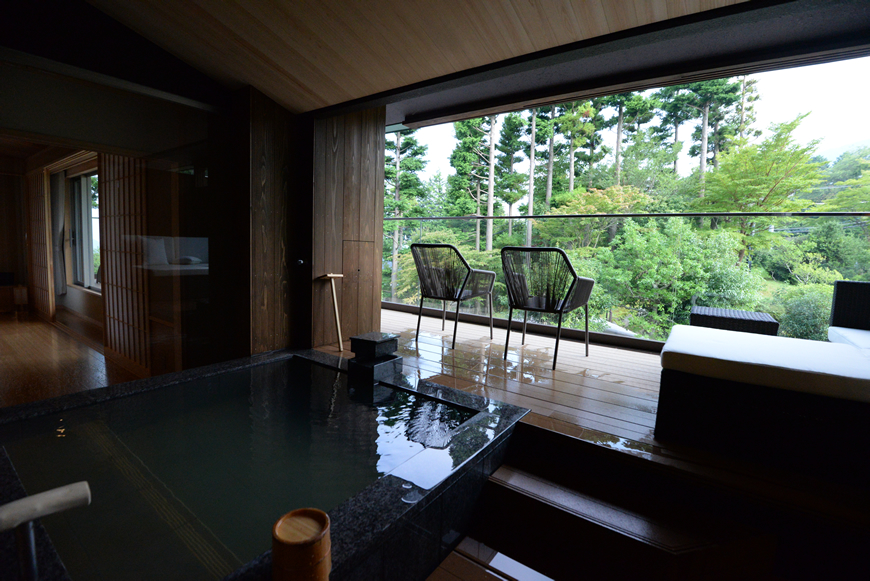 This inn is located in the mountains of Gora, on a spacious lot roughly 12,000m2 in size. It is not intended as a sightseeing base but rather as a place to enjoy a cozy stay. In addition to the tea room lobby, where you can enjoy a panoramic view of the Hakone mountains, including Myojogadake, the guest rooms also offer views of the deciduous forest that differ by season. The 16 guest rooms, all decorated in different styles, allow you to enjoy the golden hot spring water from the inn's proprietary source while admiring the natural surroundings, as well as to experience the comfort of Japanese furniture, including rattan tools made by one of Japan's leading designers. The name of the inn comes from a type of fragrant wood used to make many perfumes, and its calming scent wafts throughout the entire resort. Byakudan (sandalwood) is believed to strengthen the immune system and relieve physical and mental discomfort. In Japan, smelling a fragrance is sometimes phrased as "listening to the fragrance." We invite you to enjoy a space where you can listen to sounds and aromatic scents created by nature.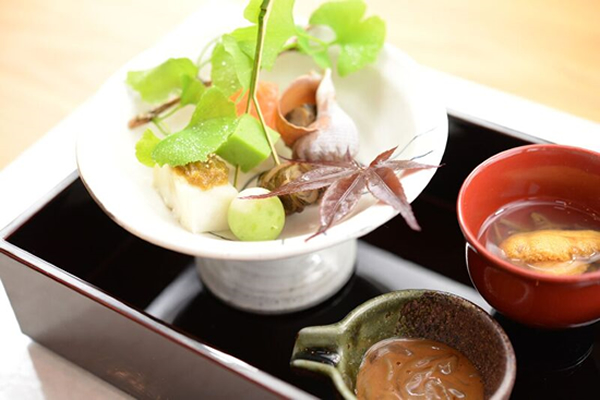 The cuisine is authentic kaiseki cuisine, which allows you to enjoy delicate beauty along with ingenuity and flavors crafted with time and effort, and is made using specially selected seasonal ingredients from across Japan, with a focus on ingredients from the sea and mountains of the local Manazuru, Sagami Bay, and Hakone-Izu areas. The underground water vein on the premises produces natural soft water, which strongly brings out richness and sweetness, and it is neutral, making it great for dashi broth. It is free of unnecessary acidity and accentuates the flavors of the ingredients. Here, you can enjoy full-fledged kaiseki cuisine, made with special attention to preparing fine soup stock. The sweets and desserts, which include homemade gelato made from Japanese ingredients, are designed to allow you to enjoy the taste of Japan both with your eyes and with your palate.
Recommended Hakone Accommodations
Kowakidani
Historical villa and open-air baths with a magnificent view / Hakone Kowakien Ten-yu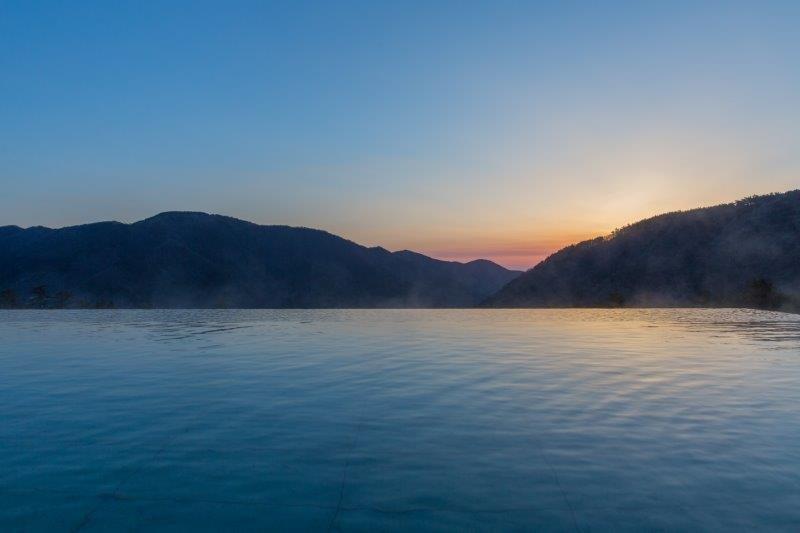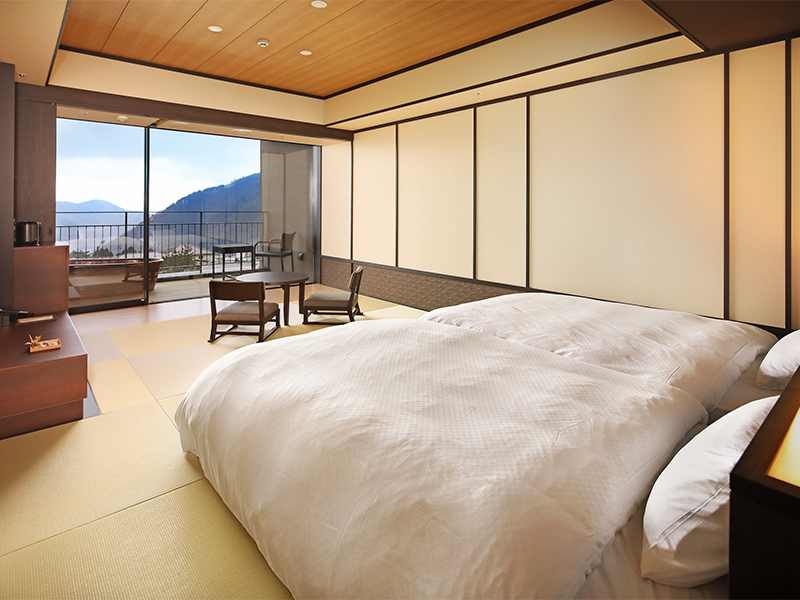 Located on a hill in Kowakudani, a historic hot spring area loved by travelers since the Edo period. All rooms are equipped an open-air bath. Of particular note, there are only six special guest rooms that were designed based on the concept of the local area's natural environment and culture, and that are named after places in Hakone such as Kowakudani and Hakone-Yumoto. These rooms feature open-air baths, and some are also equipped with indoor baths, footbaths, and even private gardens. Additionally, the large public bath on the 6th floor offers an unobstructed view, so you can enjoy the hot spring water while gazing at the beautiful outer rim of the Hakone mountains, which seem to go on forever. If you would like to experience the large public bath as well, please feel free. (Guests with tattoos are not permitted in the large public baths.) You can enjoy the view of the Hakone mountains and the natural environment above you, which seem to merge with the hot spring, as well as a floating sensation as if even you were melting into the hot spring.
The Japanese and Western creative cuisine, made with fresh seasonal ingredients, will stimulate all five of your senses, as it is prepared with special attention not only to taste and appearance but also to aroma and sound. Dining Hakone, which features an open kitchen, allows you to enjoy the food being boiled, grilled, and prepared right in front of you, stimulating your eyes, nose, and ears. In other buildings, there is also Teppan-yaki & Shabu Shabu Geihinkan, a nationally registered tangible cultural property, and Soba Kihinkan, which was an annex of the former baron's residence. At Geihinkan, you can enjoy fine sake chosen to match your meal and the carefully selected ingredients in an atmospheric environment, and at Kihinkan, you can enjoy fine dining with a view of the garden and an atmosphere full of Taisho-era romanticism.
Recommended Hakone Accommodations
Gora
A spectacular view from a spacious deck. A comfortable retreat / Gen Hakone Gora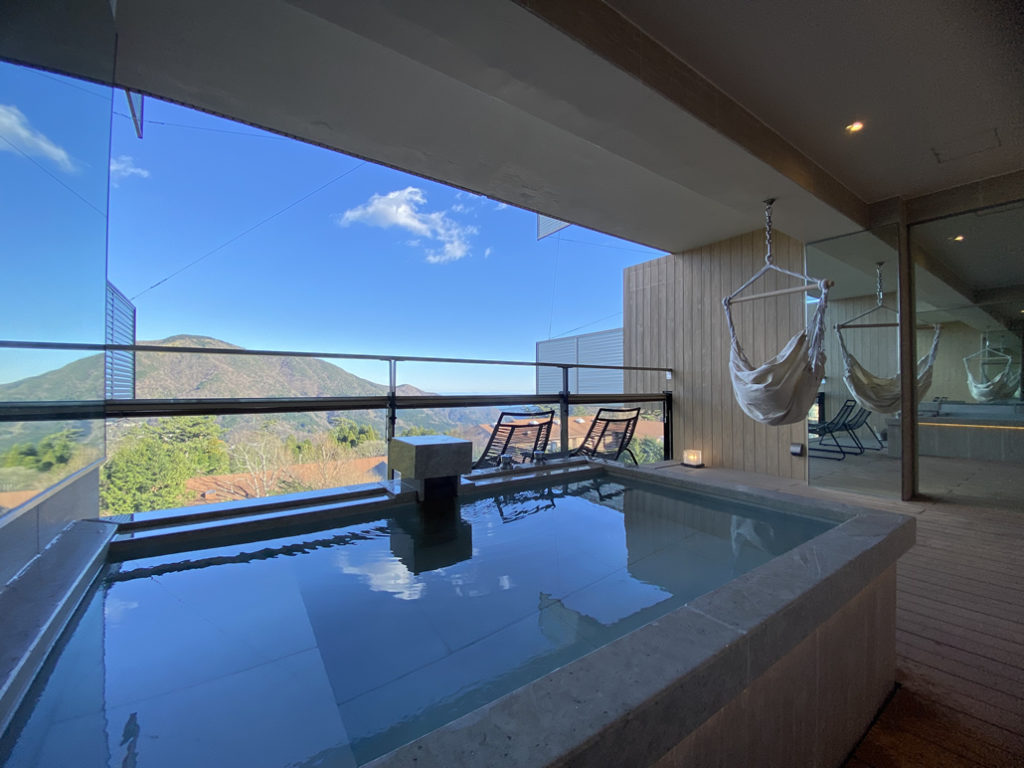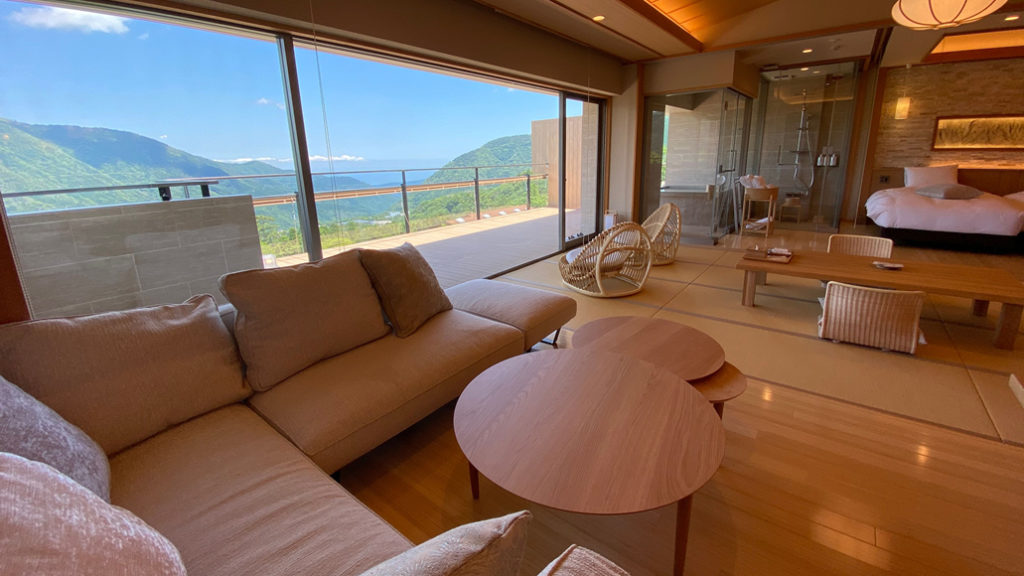 All guest rooms are spacious and features decks with a view. The Hakone mountains and Sagami Bay are visible from the large windows and decks. The appeal of this hotel is that you can enjoy a magnificent panorama of the natural environment unique to Gora from the comfort of your room. The interiors are richly decorated with wood and tatami mat flooring, providing a comfortable feel that gently enhances your time in the room. The open-air baths in the rooms are fed by free-flowing hot spring water from Gora Onsen, one of the 17 top hot springs of Hakone. Enjoy bathing while gazing up at the mountains and starry sky for a blissful experience. You can also receive treatments in your room by therapists certified by the Esalen Institute in the US.

*Spa treatments are charged separately. Body: 60 min for 18,700 yen and up (tax included); Facial: 60 min for 19,800 yen (tax included)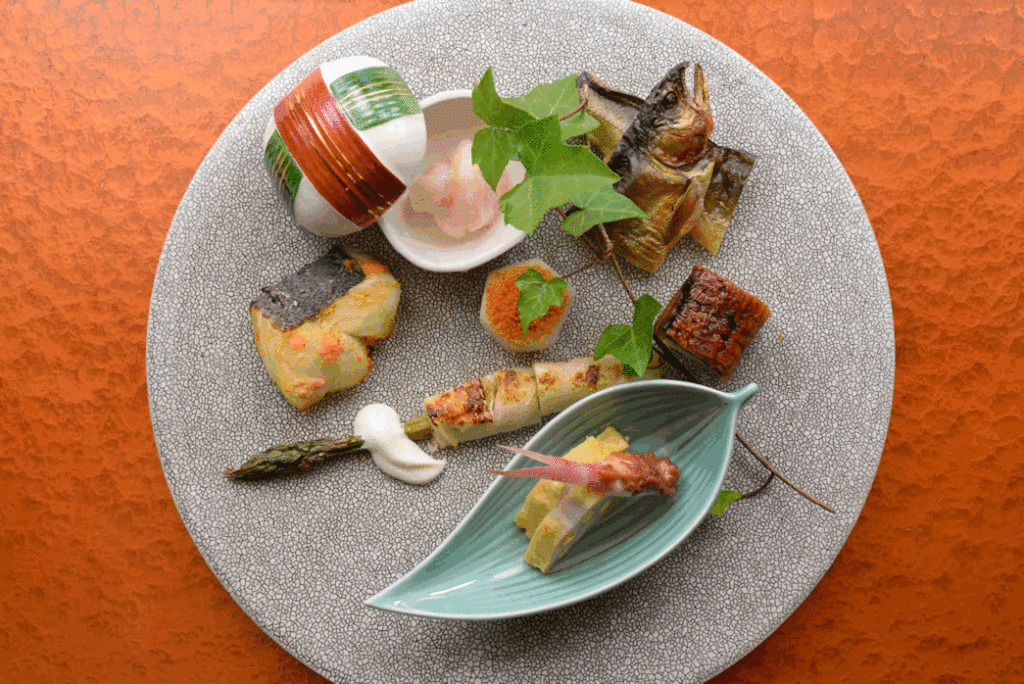 Japanese cuisine centered on seasonal ingredients in addition to the rich bounty of the sea and mountains. The cuisine is made using seasonal ingredients from Manazuru, Sagami, Ashigara, Mishima, Numazu, and other nearby areas with mild climates, and you can enjoy it in the comfort of your guest room. The core of the resort's cuisine is creative kaiseki, which combines delicate Japanese cooking techniques based on soup stock with bold preparation methods and techniques to create a rich, flavorful dishes. Spend some time enjoying a panoramic view of Hakone, an open-air bath right in your room usable whenever you like, and delicate yet bold Japanese cuisine that is good for your health, all in a guest room featuring a simple, modern design while remaining based on Japanese tastes.
Recommended Hakone Accommodations
Gora
A retreat to relax and reset yourself through nature and art / Hotel Indigo Hakone Gora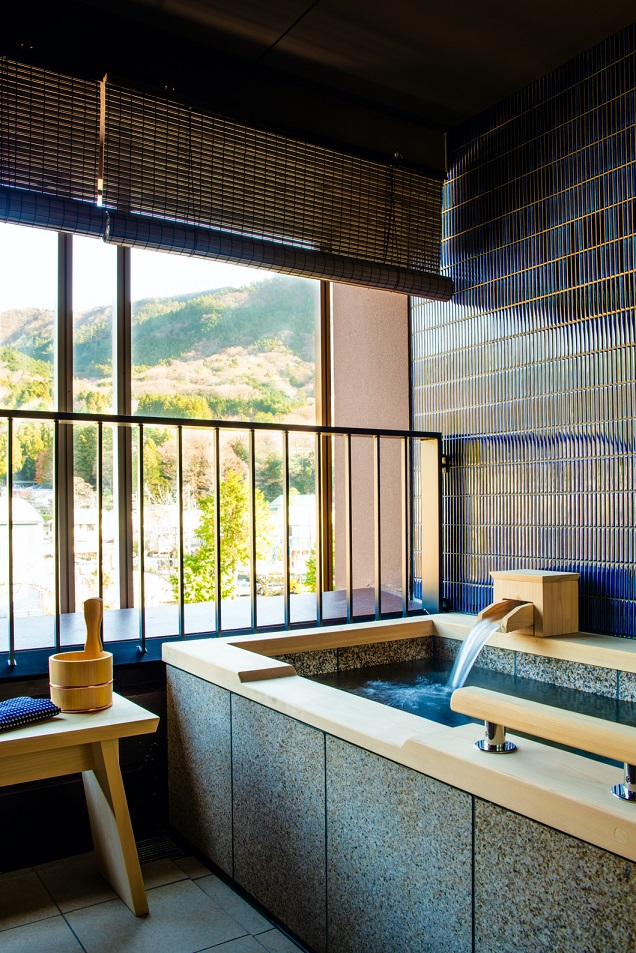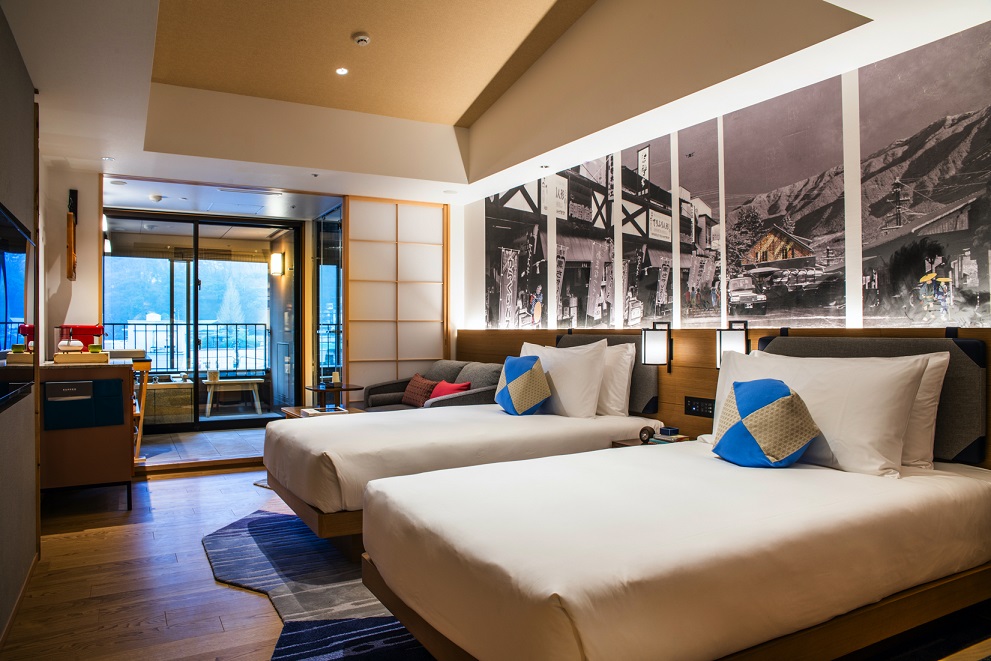 This hotel is located in Gora, an area steeped in history and culture and with a rich natural environment. The guest rooms, which overlook the Hayakawa River, are decorated with art panels and mosaics depicting Hakone, and the hotel, which has a modern design, features bold artwork throughout. The hotel has a large public bath that both men and women can enter together wearing swimsuits, so families, couples, and groups can enjoy the hot springs together. Of course, this hotel is also recommended for solo travelers. In the middle of reading a book in a quiet spot surrounded by nature, you take a break to enjoy a hot spring bath with a great view right in your own room whenever you like. This inn seeks to provide a cozy atmosphere so that you can enjoy a luxurious and refreshing stay.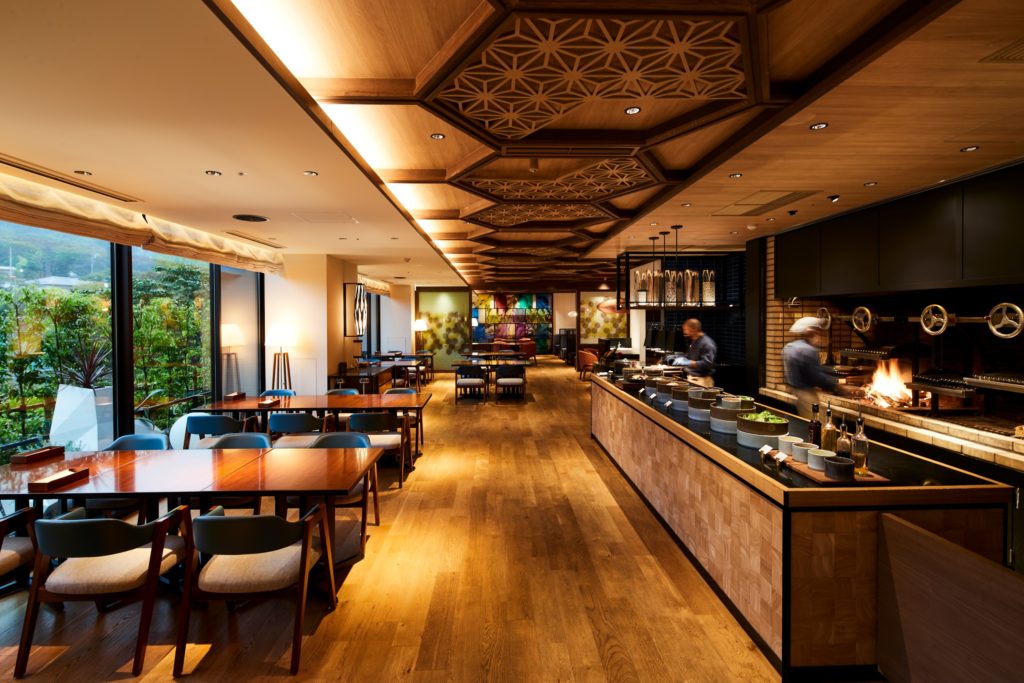 At Riverside Kitchen, a restaurant located next to Hayakawa River, dishes made using Ashigara Wagyu beef, fresh seafood from Odawara, and vegetables from Hakone and the surrounding area will further accentuate to your travel experience. Cooking with an open flame maximizes the flavor of the ingredients, and allows you to experience the flavor even before putting it in your mouth, via its sound and aroma. From breakfast to lunch, dinner, and even the bar, you can fully enjoy the charms of staying at this hotel. The kitchen terrace also has a counter where natural hot spring water flows at your feet. Enjoy a footbath and a drink while admiring the natural beauty of the Hayakawa River and nearby mountains for an extraordinary experience. In spring, you can enjoy viewing cherry blossoms on the opposite bank of the river.
Recommended Hakone Accommodations
Gora
Located a one-min walk from Gora Station. Enjoyable by solo or with your family / Toki no yu Setsugetsuka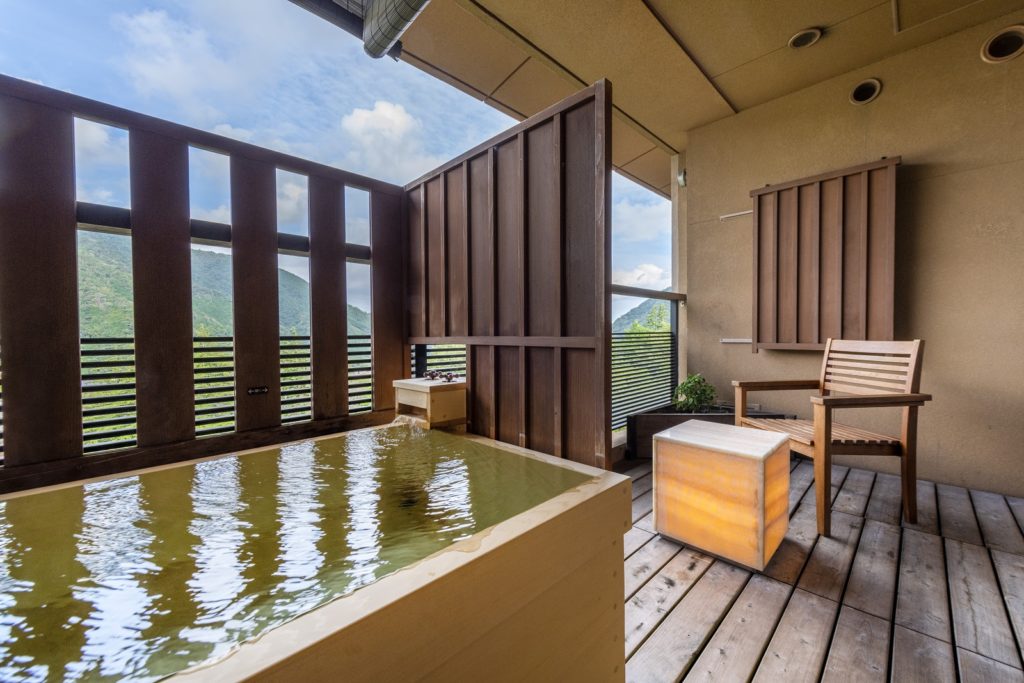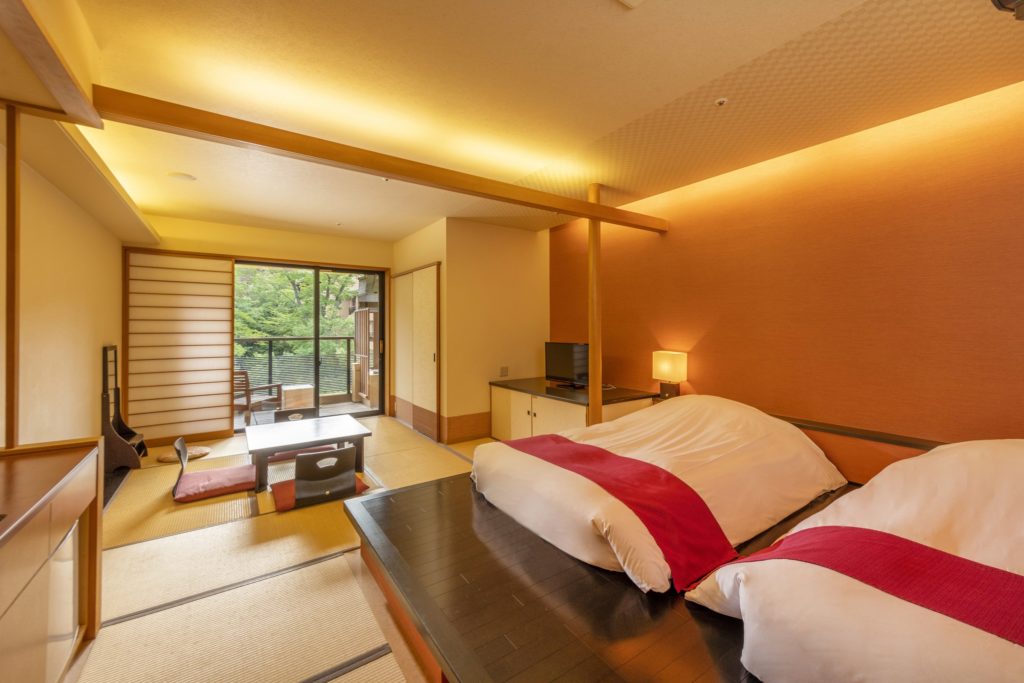 The name Setsugetsuka is derived from Japanese words meaning "snow, moon, and flowers," and is used as a general term for the natural beauty of the four seasons. The garden, which is designed to take advantage of the sloping terrain, is filled with the atmosphere of each season, and the essence of elegant Japanese style can be felt throughout the inn. All 158 guest rooms are equipped with open-air baths made of Japanese cypress. While relaxing in your Japanese-style guest room, you can enjoy the view of the natural environment on the mountains through the tasteful latticework around in the open-air bath, as well as an unobstructed view of the mountains from the deck. All rooms are equipped with a set for making tea and matcha, so you can enjoy Japan with seasonal sweets. While in the inn, you can also choose to wear a yukata or samue, and a wide range of sizes are available.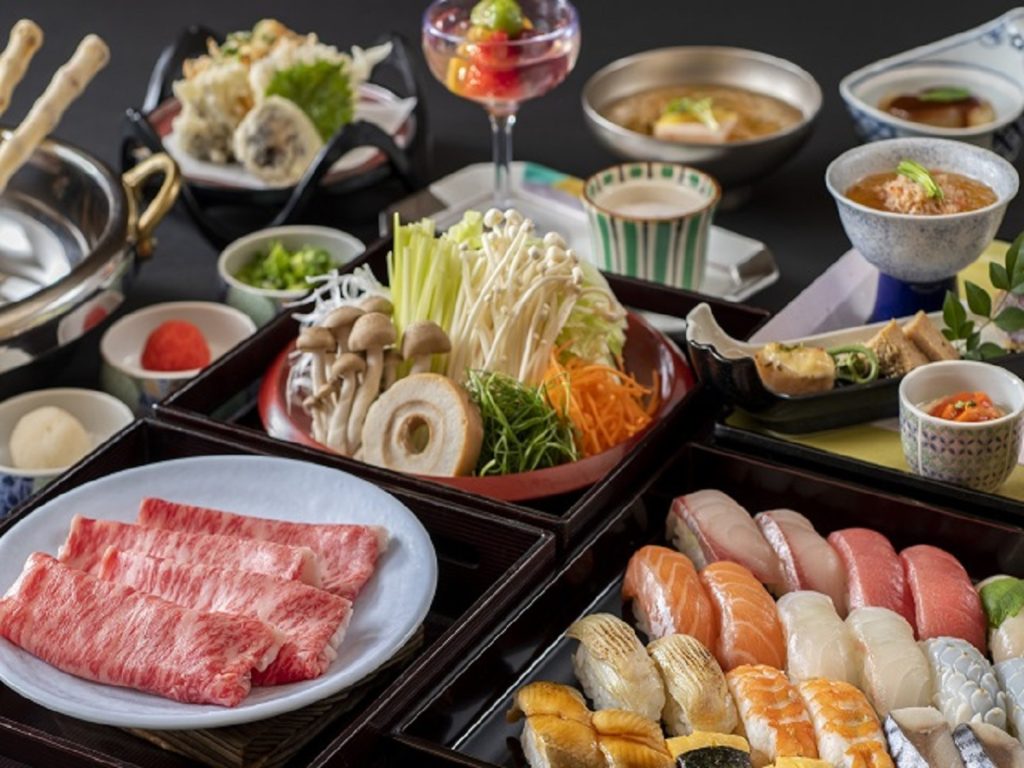 There are two dining halls in the inn where chefs demonstrate their skills and techniques using seasonal ingredients. At Kacho, you can enjoy seasonal Japanese kaiseki cuisine and seasonal hot pots containing ample amounts of seafood and vegetables from the local mountains and sea. At Fugetsu, you can enjoy Wagyu beef shabu-shabu and sushi while watching the fresh bounty of the sea and mountains being prepared right in front of your eyes. Breakfast is grilled fish and sashimi, typical breakfast dishes served at Japanese inns, to start a comfortable travel day. In the evening, if you want a snack after relaxing in the hot spring after your meal, you can order the inn's specialty, a free bowl of yonaki soba (a local buckwheat noodle dish).
*"Yonaki soba" refers to noodle stalls that are open late at night, and it also means "serving noodles at night."

Recommended Hakone Accommodations
Recommended Hakone Accommodations