Here we look at some of the many places you can enjoy using the Odakyu Line.
Learn about new and exciting attractions and then check them out with Odakyu!
Tsurugaoka Hachiman-gu

Tsurugaoka Hachiman-gu, the symbol of Kamakura, is located close to Kamakura Station. The beautiful shrine buildings painted in red are the highlight of the visit, and its extensive garden grounds are always popular with locals and tourists alike.

Great Buddha, the symbol of Kamakura

Kotoku-in
The 11.35m tall Great Buddha of Kamakura meditates resplendent in Kotoku-in temple, Hase. The Great Buddha is a popular highlight of many Kamakura excursions and is usually thronged with tourists and pilgrims all year round. You can even enter inside the giant cast bronze statue.

See More

Address

4-2-28, Hase, Kamakura-shi, Kanagawa-ken

Tel

URL

Hase-dera temple

Hase-dera temple
Hase-dera temple is located just minutes away from the shore above a hill overlooking the Shonan coastline. With its rich natural setting, the scenery is worth visiting especially during the rainy season (around June) and at the fall of the autumn leaves (end of November to the beginning of December). The statue of the Eleven-faced Kannon Bosatsu is famous for its magnificent wood craftsmanship.

See More

Address

3-11-2, Hase, Kamakura-shi, Kanagawa-ken

Tel

URL
Suggested ItinerariesView All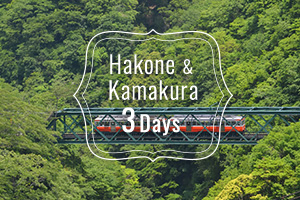 Board the Odakyu Railway for a three-day, two-night tour of the line's best sightseeing locales! The quaint atmosphere of Hakone, the historical capital of Kamakura, and the lovely coastal views of Enoshima—you can see them all with your three-day Hakone Kamakura Pass.
There are many locations along the Odakyu Line known for their spiritual power.

A course well suited for active travelers, where the charms of Hakone, such as the magnifi cent Mt. Fuji, the talked-about the museum and onsens (hot springs), can be experienced in a day.

A 3 day course which will take you to the Fuji area, where you can enjoy a good view of Mt. Fuji, from Hakone. You are sure to enjoy not only sightseeing, but shopping and amusement park as well.

Odakyu Limited ExpressRomancecar
With just the addition of a limited express surchage, use your Discount Pass to enjoy the relaxed comfort of the Romancecar with reserved only seating. See the website for fares, sales locations and other information.

80 minutes
Browse vacant seats for Limited Express Romancecar


Online Purchase System