Here we look at some of the many places you can enjoy using the Odakyu Line.
Learn about new and exciting attractions and then check them out with Odakyu!
Enjoy the magnificent view from the Enoshima Sea Candle

The prominent Enoshima lighthouse and observatory deck called the Sea Candle is located at the center of the island of Enoshima. From the observatory deck, at a vertiginous 119.6m, splendid views of distant seas and mountains are to be seen.

See More

Address

Enoshima Samuel Cocking Garden, 2-3-28, Enoshima, Fujisawa-shi, Kanagawa-ken

Tel

URL

Samuel Cocking Garden

On the island of Enoshima, there is to be found the botanical garden of a certain Mr. Samuel Cocking, a British merchant who established his unique garden in 1882. True to his Victorian times, he included many exotic tropical plants and flowers.

See More

Address

2-3, Enoshima, Fujisawa-shi, Kanagawa-ken

Tel

URL

Enoshima Aquarium

Enoshima Aquarium is located on the shore across the bridge from Enoshima. The exhibits such as the Sagami Bay Zone which recreates the bay of Enoshima, and the Jellyfish Fantasy Hall are unmissable.

See More

Address

2-19-1, Katase Kaigan, Fujisawa-shi, Kanagawa-ken

Tel

URL
Suggested ItinerariesView All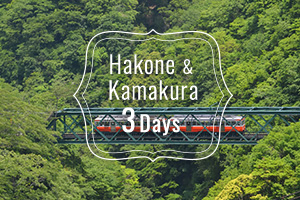 Board the Odakyu Railway for a three-day, two-night tour of the line's best sightseeing locales! The quaint atmosphere of Hakone, the historical capital of Kamakura, and the lovely coastal views of Enoshima—you can see them all with your three-day Hakone Kamakura Pass.
There are many locations along the Odakyu Line known for their spiritual power.

A course well suited for active travelers, where the charms of Hakone, such as the magnifi cent Mt. Fuji, the talked-about the museum and onsens (hot springs), can be experienced in a day.

A 3 day course which will take you to the Fuji area, where you can enjoy a good view of Mt. Fuji, from Hakone. You are sure to enjoy not only sightseeing, but shopping and amusement park as well.

Odakyu Limited ExpressRomancecar
With just the addition of a limited express surchage, use your Discount Pass to enjoy the relaxed comfort of the Romancecar with reserved only seating. See the website for fares, sales locations and other information.

80 minutes
Browse vacant seats for Limited Express Romancecar


Online Purchase System