Here we look at some of the many places you can enjoy using the Odakyu Line.
Learn about new and exciting attractions and then check them out with Odakyu!
Beach-side restaurants overlooking Enoshima

iL CHIANTI BEACHE
Enoshima is famous for its rich seafood. The most popular local fish are young sardines (Shirasu). At the beach Italian restaurant iL CHIANTI BEACHE over 100 dishes including a pizza with young sardines can be enjoyed.

See More

Address

2-20-3, Katasekaigan, Fujisawa-shi, Kanagawa-ken

Tel

URL

A popular cafe that serves French toast in a natural setting.

Lon Café
Lon Cafe is located in the botanic gardens of the Enoshima Samuel Cocking Garden. Enjoy the Lon Cafe terrace view of Enoshima town and the yacht harbors.

See More

Address

Enoshima Samuel Cocking Garden, 2-3-38, Enoshima, Fujisawa-shi, Kanagawa-ken

Tel

URL

Cafe with a glorious view of distant Sagami bay

This second branch of iL CHIANTI BEACHE located along side Enoshima Sea Candle lighthouse and observatory deck is called iL CHIANTI CAFE. From high up in Enoshima, you can enjoy magnificent views of the Shonan seas and the Sea Candle. The cafe serves pizza, pasta and hamburgers.

See More

Address

2-4-15, Enoshima, Fujisawa-shi, Kanagawa-ken

Tel

URL

AMALFI CAFFE

AMALFI CAFFE is a popular cafe in Shichirigahama. The simple choux cream pastry using fresh eggs is a popular item.

Sample the delights of a fun eating tour

Enoshima is known for its delicious takeaway food offerings. There are several kiosks on the approach to the entrance of Enoshima where some great takeaway snacks are to be sampled. Tako Sembei (octopus cracker) or small sweet bean paste dumplings can be nibbled while you stroll around Enoshima.
Suggested ItinerariesView All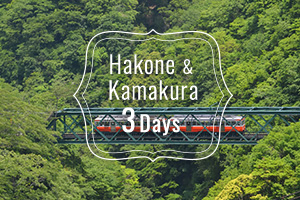 Board the Odakyu Railway for a three-day, two-night tour of the line's best sightseeing locales! The quaint atmosphere of Hakone, the historical capital of Kamakura, and the lovely coastal views of Enoshima—you can see them all with your three-day Hakone Kamakura Pass.
There are many locations along the Odakyu Line known for their spiritual power.

A course well suited for active travelers, where the charms of Hakone, such as the magnifi cent Mt. Fuji, the talked-about the museum and onsens (hot springs), can be experienced in a day.

A 3 day course which will take you to the Fuji area, where you can enjoy a good view of Mt. Fuji, from Hakone. You are sure to enjoy not only sightseeing, but shopping and amusement park as well.

Odakyu Limited ExpressRomancecar
With just the addition of a limited express surchage, use your Discount Pass to enjoy the relaxed comfort of the Romancecar with reserved only seating. See the website for fares, sales locations and other information.

80 minutes
Browse vacant seats for Limited Express Romancecar


Online Purchase System