Here we look at some of the many places you can enjoy using the Odakyu Line.
Learn about new and exciting attractions and then check them out with Odakyu!
HAKONE KOWAKIEN HOTEL

"Hakone Kowakien Hotel", which newly opened on 12th July 2023 offers a variety of hot spring baths, experiences of natural beauty and culture, and other healing experiences based on the concept of a hotel where you can experience hot springs, nature, and dining in an integrated manner with Yunessun, a day hot spring spa in Hakone. Especially at the garden filled with nature, you can enjoy a scenic stroll, various seasonal events, and nature throughout the year such as fresh greenery and wild fireflies in early summer, and autumn leaves in fall.

See More

Address

1297 Ninotaira, Hakone-machi, Ashigarashimo-gun, Kanagawa Prefecture

Tel

URL

Hakone Kowaki-en Yunessun / Mori No Yu

A day hot spring spa located in Hakone. Yunessun is an amusement spa resort with some dynamic attractions including a Mediterranean themed baths and a wine spa which can be enjoyed in your swimsuit. Other facilities include the Mori No Yu resort zone, a relaxing naked zone where you can enjoy open-air bathing. Especially the lazy river which is newly opened in 2023 is a strong recommendation! The spacious pool is sure to make you have a lot of fun and refreshed. In addition, renovated private baths, restaurants, and souvenir shops should not be missed. At Yunessun, there is so much to do, that quite honestly even a whole day's stay may not be enough.

See More

Address

1297 Ninotaira, Hakone-machi, Ashigarashimo-gun, Kanagawa-ken

Tel

URL

Yunosato Okada

The spa's 5 hot springs bubble up about 270 liters of piping hot water every minute, which is a generous 390,000 liters a day. You can take your pick and enjoy a variety of open-air baths. How about a jet bath, or a plasma bath, or a bubble bath, or a cascading bath. In addition, there is a private bath available (1,100yen for a deeply relaxing 45 minutes).

See More

Address

191 Yumotochaya, Hakone-machi, Ashigarashimo-gun, Kanagawa-ken

Tel

URL

Hakone Yuryo

There is a new one-day spa at Hakone Yumoto. It's a spa in the forest. With forest cuisine. Hakone Yuryo has 19 private rooms (the largest in the greater Tokyo area), each with its own open air bath, as well as large public baths, food cooked over an Irori hearth, and a whole range of different relaxation options. The facility has everything you could ask for in an one-day spa. You can even come just to eat at the restaurant.

See More

Address

4 Tonosawa, Hakone-machi, Ashigarashimo-gun, Kanagawa Prefecture

Tel

URL

Ways to enjoy onsen

The feel and effect of onsen will vary depending on the spring water's characteristics and minerals. Some invigorate the skin, while others are said to be effective for symptoms such as high blood pressure or eczema. The hot springs (onsen) of Hakone have long been called "Hakone 17 Toh" (17 noted hot springs in Hakone), and as the name suggests, visitors can enjoy the different therapeutic properties of the onsen found throughout Hakone.

In addition, there are many different styles of spas such as open-air baths (rotemburo) and large public baths. In some onsen spas, there are private open-air baths available where families or couples can enjoy the hot springs in comfort and privacy.

What's more, there are mini-onsen experiences with footbaths (ashiyu). These footbaths are quite simply wonderful for reviving those tired feet after a long sightseeing stroll.
Suggested ItinerariesView All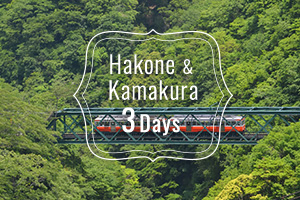 Board the Odakyu Railway for a three-day, two-night tour of the line's best sightseeing locales! The quaint atmosphere of Hakone, the historical capital of Kamakura, and the lovely coastal views of Enoshima—you can see them all with your three-day Hakone Kamakura Pass.
There are many locations along the Odakyu Line known for their spiritual power.

A course well suited for active travelers, where the charms of Hakone, such as the magnifi cent Mt. Fuji, the talked-about the museum and onsens (hot springs), can be experienced in a day.

A 3 day course which will take you to the Fuji area, where you can enjoy a good view of Mt. Fuji, from Hakone. You are sure to enjoy not only sightseeing, but shopping and amusement park as well.

Odakyu Limited ExpressRomancecar
With just the addition of a limited express surchage, use your Discount Pass to enjoy the relaxed comfort of the Romancecar with reserved only seating. See the website for fares, sales locations and other information.

80 minutes
Browse vacant seats for Limited Express Romancecar


Online Purchase System