Here we look at some of the many places you can enjoy using the Odakyu Line.
Learn about new and exciting attractions and then check them out with Odakyu!
Odakyu Hakone Highland Hotel

The hotel located in Sengokuhara, a renowned Hakone art spot is surrounded by 50,000 m2 of rich and verdant nature. It's all just waiting for you to enjoy a relaxing stroll among its lawned gardens, or if you're hungry then taste the innovative "French-Japonais"cuisine, a mix of traditional French cooking with Japanese ingredients and techniques.

See More

Address

940 Shinanoki, Sengokuhara, Hakonemachi, Ashigarashimo-gun, Kanagawa-ken

Tel

URL

Odakyu Hakone Lake Hotel

A quiet hotel located in woods by the shore of Lake Ashi. A natural hot spring and the gardens surrounded by nature are the star attractions of this hotel. From the green lawn of its front garden and meandering paths, you can fully enjoy the changing seasons. Lake Ashi, Owakudani, and a handful of galleries and museums are only a short distance away. With the bus, Ropeway and cruise ship all only 3 minutes away on foot, the hotel is an ideal base for Hakone excursions.

 *In April, 2013, YUBO – MAYU NO MORI reopens!
 Enjoy the delights of this outdoor bath space, with its tent-shaped sauna designed in a "cocoon" ("MAYU" in Japanese) motif.

See More

Address

Kojiri Togendai, Hakone-machi, Ashigarashimo-gun, Kanagawa-ken

Tel

URL

Hotel Green Plaza Hakone

A popular hotel famous for its open-air bath with a view of Mount Fuji.

See More

Address

1244-2 Sengokubara, Hakone-machi, Ashigarashimo-gun, Kanagawa-ken

Tel

URL

HAKONE HATSUHANA

This hotel prides itself on its incorporation of the four season of Hakone. Guests can enjoy views of the famous Mount Yusaka from the guest room windows or the hotel's rooftop terrace. The "modern kaiseki" cuisine, which takes traditional Japanese kaiseki dishes and incorporates Western cooking techniques, makes use of seasonal flavors and provides an amazing experience all year round. Each guest room is also equipped with an open-air bath, giving them the opportunity to enjoy a hot spring bath from the comfort of their room.

See More

Address

20-1 Sukumogawa, Hakone-machi, Ashigarashimo-gun, Kanagawa-ken

Tel

URL

Odakyu Hotel de Yama

The hotel is located on the shores of Lake Ashi with a beautiful view of Mount Fuji. In the garden, you can enjoy seasonal plants and flowers. A selection of French dishes and Japanese traditional Kaiseki dishes are available in restaurants overlooking Lake Ashi. We recommend its spa with a magnificent view of Lake Ashi, and the natural hot spring source gushes into the Azalea Bath (Tsutsuji No Yu), which is the best on the Lake Ashi shore.

See More

Address

80 Yumoto, Hakone-machi, Ashigarashimo-gun, Kanagawa-ken

Tel

URL
Suggested ItinerariesView All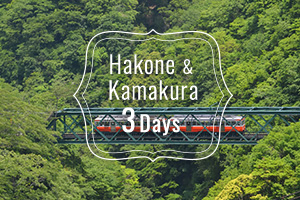 Board the Odakyu Railway for a three-day, two-night tour of the line's best sightseeing locales! The quaint atmosphere of Hakone, the historical capital of Kamakura, and the lovely coastal views of Enoshima—you can see them all with your three-day Hakone Kamakura Pass.
There are many locations along the Odakyu Line known for their spiritual power.

A course well suited for active travelers, where the charms of Hakone, such as the magnifi cent Mt. Fuji, the talked-about the museum and onsens (hot springs), can be experienced in a day.

A 3 day course which will take you to the Fuji area, where you can enjoy a good view of Mt. Fuji, from Hakone. You are sure to enjoy not only sightseeing, but shopping and amusement park as well.

Odakyu Limited ExpressRomancecar
With just the addition of a limited express surchage, use your Discount Pass to enjoy the relaxed comfort of the Romancecar with reserved only seating. See the website for fares, sales locations and other information.

80 minutes
Browse vacant seats for Limited Express Romancecar


Online Purchase System