Here we look at some of the many places you can enjoy using the Odakyu Line.
Learn about new and exciting attractions and then check them out with Odakyu!
Okada Museum of Art

The museum is storing an Eastern art collection centered around Japanese paintings and ceramics. Thoroughly appreciate works of art in a quiet 5,000㎡ exhibition room with 450 pieces always on display. In front of the mural "Wind/Time" depicting the Wind God and Thunder God are footbaths with constantly flowing 100% natural hot spring water (No hydrolysis-warming). A restaurant is also located on the grounds, making this an art museum you can enjoy your entire day in.

See More

Address

493-1 Kowakudani, Hakone-machi, Ashigarashimo-gun, Kanagawa, 250-0406 Japan

Tel

URL

Kanazashi Woodcraft (Hatajuku)

Yosegi is a traditional handicraft that has been handed down since the end of the Edo period (1603-1867). Subtle geometrical patterns are created by combining many colors, grains and textures of wood. Kanazashi Woodcraft Hall displays and sells the works of Yosegi artists in its vast shop interior.

See More

Address

134 Hatajuku, Hakone-machi, Ashigarashimo-gun, Kanagawa-ken

Tel

URL

Hakone Checkpoint

During the Edo period, checkpoints (Sekisho) were built at any important points along the main travel routes of Japan. The Shogunate government were keen to enforce taxation and censorship. The checkpoint isn't the original one, but this one is authentic in every detail and made using the original carpentry and masonry techniques of the Edo period.

See More

Address

1 Hakone, Hakone-machi, Ashigarashimo-gun, Kanagawa-ken

Tel

URL

Hakone-jinja shrine

The Hakone-jinja shrine has traditionally been a place for travelers to pray for a safe journey and good fortune, and in more recent times the shrine is now famous for being a place flowing with mystical energy.

See More

Address

80-1 Moto-Hakone, Hakone-machi, Ashigarashimo-gun, Kanagawa-ken

Tel

URL

Haku-undo Tea Garden

Haku-undo Tea Garden is a collective name for the elegant tea houses located in the Hakone Gora Park and among them, Haku-undo has pride of place. The Japanese tea setting is popular among many visitors, and is a valuable opportunity to experience this Japanese tradition.

See More

Address

1300 Gora, Hakone-machi, Ashigarashimo-gun, Kanagawa-ken

Tel

URL

Hakone Parquetry

Hakone Maruyama Bussan
Hakone parquetry is an elaborate style of wooden mosaic work using a variety of different colored woods cut into geometric shapes. It is unique to Hakone, and these traditionally and individually made handicrafts are a favorite with tourists. The parquetry boxes known as secret boxes are especially popular as souvenirs and were given a British award in the 2008 Japanese Souvenir Contest organized by the Japan Tourism Agency.

See More

Address

17 Hakone, Hakone-machi, Ashigarashimo-gun, Kanagawa-ken

Tel

URL

Hakone Mononofu-no-Sato Art Museum

The museum exhibits weapons and armor, ukiyoe, bijinga, Japanese lacquer and tea utensils. And for those of you who are still kids at heart, you can try on real samurai armor. Brilliant!

See More

Address

817-580 Sengokubara, Hakone-machi, Ashigarashimo-gun, Kanagawa-ken

Tel

URL
Suggested ItinerariesView All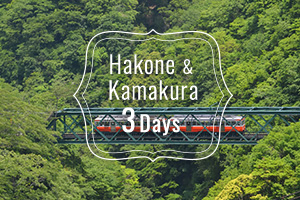 Board the Odakyu Railway for a three-day, two-night tour of the line's best sightseeing locales! The quaint atmosphere of Hakone, the historical capital of Kamakura, and the lovely coastal views of Enoshima—you can see them all with your three-day Hakone Kamakura Pass.
There are many locations along the Odakyu Line known for their spiritual power.

A course well suited for active travelers, where the charms of Hakone, such as the magnifi cent Mt. Fuji, the talked-about the museum and onsens (hot springs), can be experienced in a day.

A 3 day course which will take you to the Fuji area, where you can enjoy a good view of Mt. Fuji, from Hakone. You are sure to enjoy not only sightseeing, but shopping and amusement park as well.

Odakyu Limited ExpressRomancecar
With just the addition of a limited express surchage, use your Discount Pass to enjoy the relaxed comfort of the Romancecar with reserved only seating. See the website for fares, sales locations and other information.

80 minutes
Browse vacant seats for Limited Express Romancecar


Online Purchase System