Here we look at some of the many places you can enjoy using the Odakyu Line.
Learn about new and exciting attractions and then check them out with Odakyu!
Hakone Akatsukian

The al dente soba noodles made of the highest quality Japanese buckwheat flour and Hakone spring water are deservedly very popular.

See More

Address

184 Yumotochaya, Hakone-machi, Ashigarashimo-gun, Kanagawa-ken

Tel

URL

Yubadon Naokichi

The kumiage yuba (fresh tofu skin) made of pure Hakone spring water and the very best soya milk is superb. We hope you enjoy these traditional elegant and healthy yuba and tofu dishes.

See More

Address

696 Yumoto, Hakone-machi, Ashigarashimo-gun, Kanagawa-ken

Tel

URL

Premium Shop and Salon de Thé Rosage

Salon de Thé Rosage is a patisserie of the Hotel de Yama. Wonderful scenery. A beautiful lake. What could be finer than a luxury tea on the shores of Lake Ashi.

See More

Address

Odakyu Hotel de Yama, 80 Moto-Hakone, Hakone-machi, Ashigara-shimo-gun, Kanagawa-ken

Tel

URL

Togendai View Restaurant

The Togendai View Restaurant is located in the Togendai Station. From the large windows of the spacious restaurant, a magnificent view of Lake Ashi can be enjoyed. A wide selection of lunch and teatime offerings are sure to appeal.

See More

Address

164 Moto-Hakone, Hakone-machi, Ashigarashimo-gun, Kanagawa-ken

Tel

URL

Otome-toge Fujimi-chaya Tea House

A teahouse with a grand view of Mount Fuji. Its Gotemba Mikuriya Soba (soba noodles made in Gotemba city) and local Gotemba milk ice cream are absolutely delicious. The famous spring water of Fujimi no Mizu is found in its gardens, and visitors are free to take some away.

Curry at Fujiya Hotel

The Fujiya, the main dining attraction at the Fujiya Hotel is a famous French restaurant established on the day of the hotel's opening. The traditional beef curry is the renowned signature dish of this restaurant.

See More

Address

359 Miyanoshita, Hakone-machi, Ashigarashimo-gun, Kanagawa-ken

Tel

URL

Hatsuhana Soba Shinkan

The soba noodles, made of Japanese mountain yam, eggs, buckwheat flour and wheat flour without any added water, have a good firm texture. Seiro soba (soba noodles served on a wooden steamer with a mat of woven reeds) served with Japanese mountain yam and nori (seaweed) are highly recommended.

See More

Address

474 Yumoto, Hakone-machi, Ashigarashimo-gun, Kanagawa-ken

Tel

URL
Suggested ItinerariesView All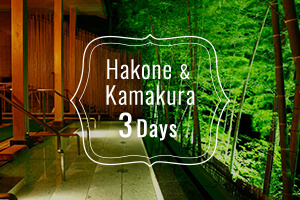 Board the Odakyu Railway for a three-day, two-night tour of the line's best sightseeing locales! The quaint atmosphere of Hakone, the historical capital of Kamakura, and the lovely coastal views of Enoshima—you can see them all with your three-day Hakone Kamakura Pass.
There are many locations along the Odakyu Line known for their spiritual power.

A course well suited for active travelers, where the charms of Hakone, such as the magnifi cent Mt. Fuji, the talked-about the museum and onsens (hot springs), can be experienced in a day.

A 3 day course which will take you to the Fuji area, where you can enjoy a good view of Mt. Fuji, from Hakone. You are sure to enjoy not only sightseeing, but shopping and amusement park as well.

Odakyu Limited ExpressRomancecar
With just the addition of a limited express surchage, use your Discount Pass to enjoy the relaxed comfort of the Romancecar with reserved only seating. See the website for fares, sales locations and other information.

80 minutes
Browse vacant seats for Limited Express Romancecar


Online Purchase System