Here we look at some of the many places you can enjoy using the Odakyu Line.
Learn about new and exciting attractions and then check them out with Odakyu!
Eva-ya

An official Evangelion store opened in Hakone, where the anime story takes place. Official Evangelion goods with a twist of Japan such as teacups and hand towels can be purchased. The store's original goods can be found here, making this a must-see for anime fans.

See More

Address

707-1 Shiroishishita, Yumoto, Hakone-machi, Ashigarashimo-gun, Kanagawa-ken

Tel

URL

Hakone Tozan Meisan-ten Yumoto shop (Hakone-no-ichi Shop)

The souvenir shop Hakone No Ichi (Hakone market) located within the Hakone-Yumoto Station building has a wide selection of goods from many Hakone souvenirs to some unique rarities only available in this store.

See More

Address

Hakone-Yumoto Station, 707 Yumoto, Hakone-machi, Ashigarashimo-gun, Kanagawa-ken

Tel

URL

The Black Eggs of Owakudani

Tamago-jaya
The black eggs of Owakudani are boiled eggs cooked by ground heat and a reaction to the volcanic fumes. The egg shell is completely black, but the inside is pure white. Legend says eating just one black egg extends your life by 7 years. Tuck in!

See More

Address

1251 Sengokubara, Hakone-machi, Ashigarashimo-gun, Kanagawa-ken

Tel

URL

Gotemba Premium Outlets®

Not only Japan's largest fashion outlet mall, but a mall with a view of Mount Fuji. How does it get any better than that... Enjoy shopping in the many directly managed stores of top overseas brands as well as a collection of stores run by popular Japanese labels. The Odakyu Hakone Highway Bus connects Gotemba Premium Outlets® with Shinjuku and Hakone Togendai.

Baggage Service

The Hakone Carry Service counter in Hakone-Yumoto station provides baggage delivery service to your place of accommodation. When you check out, they will deliver your baggage back to Hakone-Yumoto Station.

Onsen Manju (Hot Spring Dumplings)

Marushima Honten
Marushima Honten located in front of the Hakone-Yumoto Station has been around for over a 100 years, and specializes in the original hot spring dumplings. The round dumplings sweetened with either white or brown sugar syrup are stuffed with sweet bean paste.

See More

Address

706 Yumoto, Hakone-machi, Ashigarashimo-gun, Kanagawa-ken

Tel

URL

Hakone Parquetry

Hakone Maruyama Bussan
Hakone parquetry is an elaborate style of wooden mosaic work using a variety of different colored woods cut into geometric shapes. It is unique to Hakone, and these traditionally and individually made handicrafts are a favorite with tourists. The parquetry boxes known as secret boxes are especially popular as souvenirs and were given a British award in the 2008 Japanese Souvenir Contest organized by the Japan Tourism Agency.

See More

Address

17 Hakone, Hakone-machi, Ashigarashimo-gun, Kanagawa-ken

Tel

URL
Suggested ItinerariesView All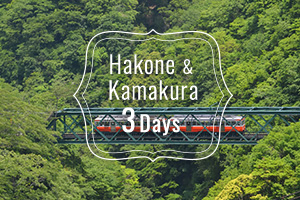 Board the Odakyu Railway for a three-day, two-night tour of the line's best sightseeing locales! The quaint atmosphere of Hakone, the historical capital of Kamakura, and the lovely coastal views of Enoshima—you can see them all with your three-day Hakone Kamakura Pass.
There are many locations along the Odakyu Line known for their spiritual power.

A course well suited for active travelers, where the charms of Hakone, such as the magnifi cent Mt. Fuji, the talked-about the museum and onsens (hot springs), can be experienced in a day.

A 3 day course which will take you to the Fuji area, where you can enjoy a good view of Mt. Fuji, from Hakone. You are sure to enjoy not only sightseeing, but shopping and amusement park as well.

Odakyu Limited ExpressRomancecar
With just the addition of a limited express surchage, use your Discount Pass to enjoy the relaxed comfort of the Romancecar with reserved only seating. See the website for fares, sales locations and other information.

80 minutes
Browse vacant seats for Limited Express Romancecar


Online Purchase System