Here we look at some of the many places you can enjoy using the Odakyu Line.
Learn about new and exciting attractions and then check them out with Odakyu!
Seaside Spa

Seaside Spa(Ito Marine Town)
A one-day hot spring (Higaeri Onsen) with natural hot spring water gushing from a source located by the seaside. The facility offers a large public baths and open-air baths with ocean views.

Tokaikan

"Tokaikan" is a historic building that has been designated as a cultural property by Ito City. Conservation repairs were carried out on the building, which was a hot spring ryokan between 1928 and 1997, and it is now open to public as a traditional Japanese wooden structure.
The hot spring baths inside the building have a retro atmosphere, as the original architectural style is maintained by using tiling around the large bath.
The sculpture from which water flows to the bath is also an old artifact. Have a look at it while you are bathing.
Relish the fact that the hot spring is supplied by Kakenagashi as its water spring. We recommend walking from Ito Station to Tokaikan along Yu-no-hana dori, which is steeped in the atmosphere of this historic hot spring area.
Suggested ItinerariesView All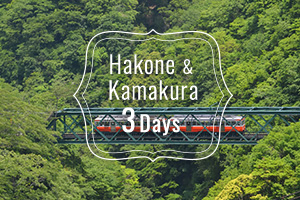 Board the Odakyu Railway for a three-day, two-night tour of the line's best sightseeing locales! The quaint atmosphere of Hakone, the historical capital of Kamakura, and the lovely coastal views of Enoshima—you can see them all with your three-day Hakone Kamakura Pass.
There are many locations along the Odakyu Line known for their spiritual power.

A course well suited for active travelers, where the charms of Hakone, such as the magnifi cent Mt. Fuji, the talked-about the museum and onsens (hot springs), can be experienced in a day.

A 3 day course which will take you to the Fuji area, where you can enjoy a good view of Mt. Fuji, from Hakone. You are sure to enjoy not only sightseeing, but shopping and amusement park as well.

Odakyu Limited ExpressRomancecar
With just the addition of a limited express surchage, use your Discount Pass to enjoy the relaxed comfort of the Romancecar with reserved only seating. See the website for fares, sales locations and other information.

80 minutes
Browse vacant seats for Limited Express Romancecar


Online Purchase System