Here we look at some of the many places you can enjoy using the Odakyu Line.
Learn about new and exciting attractions and then check them out with Odakyu!
Mount Omuro Lift

Mount Omuro Lift
The Omuro lift spirits you to the peek of Mount Omuro, 580m, where you can enjoy the unobstructed 360° panorama with a view stretching as far as Fuji-Hakone and the Izu Islands. Mt. Omuro has a 70m deep and 300m diameter crater; why not take a stroll along the 1 km walk stretched around the crater's edge.

Dogashima Marine (Dogashima Cave Cruise Itinerary)

Explore the much indented coastline by boat, tour the famous Sanshiro island and visit the national natural monument, the Tensodo Cave. The Tensodo Cave is sublimely beautiful, with aquamarine water and bright sunlight streaming through the open roof of the cave. The cave is accessible from the sea, and the cruise takes about 20 minutes.

See More

Address

2060 Nishina, Nishiizu, Kamo Gun, Shizuoka-ken60 minutes by bus from Shimoda Station

Tel

URL

Shimoda Aquarium

The aquarium is built into the natural inlet, and popular attractions include live feeding and dolphin performances, all held against the backdrop of the beautiful bay.

Jogasaki (Kadowakizaki suspension bridge)

The foundations of the rugged scenery, so popular with visitors, were created by volcanic rocks from an eruption 4000 years ago, which then formed the complex topography we see today. Particularly, the countryside around the Kadowakizaki suspension bridge attracts many tourists. The bridge measures 23 meters long and 48 meters high.

Izu Cactus Garden

The botanical garden offers as many as 1500 species of cactus and succulent plants from around the world. Here, you can also come into contact with many animals such as squirrel monkeys, watch animal shows or in winter see adorable capybaras bathing in a hot spring.
Suggested ItinerariesView All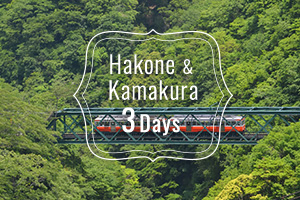 Board the Odakyu Railway for a three-day, two-night tour of the line's best sightseeing locales! The quaint atmosphere of Hakone, the historical capital of Kamakura, and the lovely coastal views of Enoshima—you can see them all with your three-day Hakone Kamakura Pass.
There are many locations along the Odakyu Line known for their spiritual power.

A course well suited for active travelers, where the charms of Hakone, such as the magnifi cent Mt. Fuji, the talked-about the museum and onsens (hot springs), can be experienced in a day.

A 3 day course which will take you to the Fuji area, where you can enjoy a good view of Mt. Fuji, from Hakone. You are sure to enjoy not only sightseeing, but shopping and amusement park as well.

Odakyu Limited ExpressRomancecar
With just the addition of a limited express surchage, use your Discount Pass to enjoy the relaxed comfort of the Romancecar with reserved only seating. See the website for fares, sales locations and other information.

80 minutes
Browse vacant seats for Limited Express Romancecar


Online Purchase System