Here we look at some of the many places you can enjoy using the Odakyu Line.
Learn about new and exciting attractions and then check them out with Odakyu!
Tokyo Camii

Tokyo Camii is the largest Islamic Mosque in Japan. It is a large beautiful building that has been exquisitely decorated by Turkish craftsmen. Anyone, not only Muslims, is free enter to view the mosque. Of course it is a holy place, so you should avoid wearing clothes, such as miniskirts or short pants, that expose a lot of naked skin when you enter the prayer hall and be careful not to interrupt the prayers. Women should also wear a scarf covering their head. Tokyo Camii is open from 10 a.m. to 6 p.m. 365 days a year.

Meiji Jingu

Meiji Jing is a shrine located in a small patch of forest that is so peaceful, you would not know you were in the center of Tokyo.

Odawara Castle

Odawara Castle was famous for being a castle with strong defenses that was impossible to capture. The current castle keep was reconstructed in 1960. based on the original plans. The inside houses exhibits related to the history of the castle. The highest floor is 60m above sea level and from here you can see out over all of Odawara City and Sagami Bay and enjoy the feeling of being a medieval Daimyo (the master of Odawara Castle).

Parthenon Tama

Parthenon Tama contains a museum and a hall where plays and concerts are held. It is constructed according to a symmetrical design centered around a set of monumental stairs that climb up to the top of the hill.
Suggested ItinerariesView All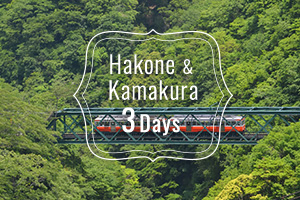 Board the Odakyu Railway for a three-day, two-night tour of the line's best sightseeing locales! The quaint atmosphere of Hakone, the historical capital of Kamakura, and the lovely coastal views of Enoshima—you can see them all with your three-day Hakone Kamakura Pass.
There are many locations along the Odakyu Line known for their spiritual power.

A course well suited for active travelers, where the charms of Hakone, such as the magnifi cent Mt. Fuji, the talked-about the museum and onsens (hot springs), can be experienced in a day.

A 3 day course which will take you to the Fuji area, where you can enjoy a good view of Mt. Fuji, from Hakone. You are sure to enjoy not only sightseeing, but shopping and amusement park as well.

Odakyu Limited ExpressRomancecar
With just the addition of a limited express surchage, use your Discount Pass to enjoy the relaxed comfort of the Romancecar with reserved only seating. See the website for fares, sales locations and other information.

80 minutes
Browse vacant seats for Limited Express Romancecar


Online Purchase System