Here we look at some of the many places you can enjoy using the Odakyu Line.
Learn about new and exciting attractions and then check them out with Odakyu!
Oyama's spinning tops spin good fortune

Oyama has abundant supplies of timber, and from the Edo period, the region's skilled craftsmen have been turning wooden tops. In Japan, spinning tops are considered as charms to bring in good fortune, family wellbeing, business prosperity or good crops. Today, the spinning tops of Oyama are still crafted by traditional methods to achieve their characteristic rich colors and elaborate shapes, and they are a perfect souvenir choice. The approach leading to Oyama cable lined with shops is aptly named Koma Sando (Spinning Top Avenue).
Suggested ItinerariesView All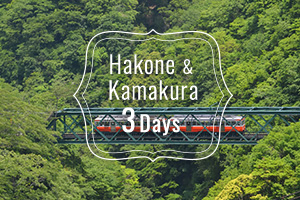 Board the Odakyu Railway for a three-day, two-night tour of the line's best sightseeing locales! The quaint atmosphere of Hakone, the historical capital of Kamakura, and the lovely coastal views of Enoshima—you can see them all with your three-day Hakone Kamakura Pass.
There are many locations along the Odakyu Line known for their spiritual power.

A course well suited for active travelers, where the charms of Hakone, such as the magnifi cent Mt. Fuji, the talked-about the museum and onsens (hot springs), can be experienced in a day.

A 3 day course which will take you to the Fuji area, where you can enjoy a good view of Mt. Fuji, from Hakone. You are sure to enjoy not only sightseeing, but shopping and amusement park as well.

Odakyu Limited ExpressRomancecar
With just the addition of a limited express surchage, use your Discount Pass to enjoy the relaxed comfort of the Romancecar with reserved only seating. See the website for fares, sales locations and other information.

80 minutes
Browse vacant seats for Limited Express Romancecar


Online Purchase System