Here we look at some of the many places you can enjoy using the Odakyu Line.
Learn about new and exciting attractions and then check them out with Odakyu!
Lake Ashi

A volcanic crater lake famous for its beautiful view of Mount Fuji. The elegant sightseeing cruise and lake sports such as kayaking are very popular here. The view of Mount Fuji behind Lake Ashi, and the Hakone-jinja shrine seen from the cruise ship have long been considered to be the most iconic views of Hakone. In good weather conditions and with a calm lake, the view of Mount Fuji reflected on the mirror of Lake Ashi is just wonderful. This effect is affectionately known as Sakasa Fuji (reflected Fuji).

Owakudani

Owakudani is quite a place, unusual but worth the visit. A desolate smoking plain strangely located in verdant Hakone. Walking on the path set beside fuming clouds of steam and carbonic acid gas, you can see a real live smoking volcano. Be sure to try the rare and special Black Eggs, (link to the page) boiled eggs cooked by the ground heat and volcanic fumes.

Hakone Gora Park

The oldest French formal garden in Japan built at the beginning of the 20th century. Throughout the year visitors can enjoy a rich variety of plants and flowers. You will also find a craft workshop where pottery and glassblowing are practiced. If you want to be calm, then try out the Haku-undo Tea Garden teahouse and savor a cup of traditional Japanese tea.

See More

Address

1300 Gora, Hakone-machi, Ashigarashimo-gun, Kanagawa-ken

Tel

URL

The Hakone Open Air Museum

The museum's outdoor grounds provide a splendid home to many artworks by well-known modern and contemporary sculptors such as Rodin, and visitors can relax and really enjoy the splendor of art in nature.

See More

Address

1121 Ninotaira, Hakone-machi, Ashigarashimo-gun, Kanagawa-ken

Tel

URL

Lalique Museum, Hakone

The museum exhibits works of Rene Lalique, a master jewelry designer and glass maker. You can also relax in the exquisite natural gardens or have a drink or meal in the café and restaurant.

See More

Address

186-1 Sengokubara, Hakone-machi, Ashigarashimo-gun, Kanagawa-ken

Tel

URL

Hakone Glass Forest Venetian Glass Museum

The museum set in an aristocratic building modeled on a Venetian medieval villa displays around 100 pieces of fine and elegant Venetian glassware. Among the collection of precious pieces exhibited, be sure to catch the cobalt blue goblet handed down through the Rothschild family. In the cafe terrace, you can enjoy tea to the soothing background music of canzone (Italian song). Very elegant and tasty.

See More

Address

940-48 Sengokubara, Hakone-machi, Ashigarashimo-gun, Kanagawa-ken

Tel

URL

Museum of Saint-Exupéry and The Little Prince in Hakone

The museum specializes in evoking the world of The Little Prince, and the life of Saint-Exupery, an aviator and writer of the much loved novel. The museum is set in grounds designed with a French theme reminiscent of Provence, which is strongly associated with Saint-Exupery, and exhibits include a film theater, photographs, letters and documents.

See More

Address

909 Sengokubara, Hakone-machi, Ashigarashimo-gun, Kanagawa-ken

Tel

URL
Suggested ItinerariesView All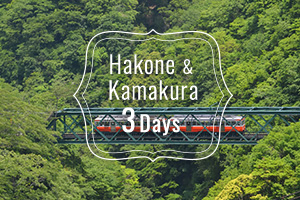 Board the Odakyu Railway for a three-day, two-night tour of the line's best sightseeing locales! The quaint atmosphere of Hakone, the historical capital of Kamakura, and the lovely coastal views of Enoshima—you can see them all with your three-day Hakone Kamakura Pass.
There are many locations along the Odakyu Line known for their spiritual power.

A course well suited for active travelers, where the charms of Hakone, such as the magnifi cent Mt. Fuji, the talked-about the museum and onsens (hot springs), can be experienced in a day.

A 3 day course which will take you to the Fuji area, where you can enjoy a good view of Mt. Fuji, from Hakone. You are sure to enjoy not only sightseeing, but shopping and amusement park as well.

Odakyu Limited ExpressRomancecar
With just the addition of a limited express surchage, use your Discount Pass to enjoy the relaxed comfort of the Romancecar with reserved only seating. See the website for fares, sales locations and other information.

80 minutes
Browse vacant seats for Limited Express Romancecar


Online Purchase System