Here we look at some of the many places you can enjoy using the Odakyu Line.
Learn about new and exciting attractions and then check them out with Odakyu!
Hotel Century Southern Tower: an ideal base for sightseeing

Hotel Century Southern Tower is located in the South Exit area of the Southern Terrace. With its convenient location, just a three-minute walk away from Shinjuku Station, the hotel is the perfect base for Tokyo sightseeing. Spectacular views of Tokyo can be enjoyed from guest rooms located between the 22nd and 35th floors. Also make sure that you check out TRIBEKS, a French inspired restaurant with a rich selection of wines, as well as the long-established Japanese cuisine of Horikawa.

See More

Address

Hotel Century Southern Tower, 2-2-1 Yoyogi, Shibuya-ku, Tokyo

Tel

URL

Hyatt Regency Tokyo: a high-class hotel experience

Hyatt Regency Tokyo is the only five-star hotel in Shinjuku, and it is located in an area slightly out of the way of the hustle and bustle of central Shinjuku. The hotel is renowned for its luxurious facilities and excellent hospitality. Visitors will enjoy the popular French restaurant Cuisine[s] Michel Troisgros and exquisite relaxation provided at Joule Spa & Wellness. The hotel is directly linked to airports by limousine bus services, and a complimentary shuttle bus service operates between the hotel and Odakyu HALC at Shinjuku Station.
Suggested ItinerariesView All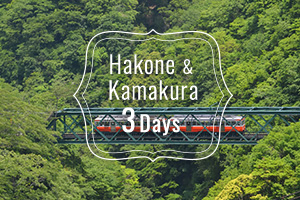 Board the Odakyu Railway for a three-day, two-night tour of the line's best sightseeing locales! The quaint atmosphere of Hakone, the historical capital of Kamakura, and the lovely coastal views of Enoshima—you can see them all with your three-day Hakone Kamakura Pass.
There are many locations along the Odakyu Line known for their spiritual power.

A course well suited for active travelers, where the charms of Hakone, such as the magnifi cent Mt. Fuji, the talked-about the museum and onsens (hot springs), can be experienced in a day.

A 3 day course which will take you to the Fuji area, where you can enjoy a good view of Mt. Fuji, from Hakone. You are sure to enjoy not only sightseeing, but shopping and amusement park as well.

Odakyu Limited ExpressRomancecar
With just the addition of a limited express surchage, use your Discount Pass to enjoy the relaxed comfort of the Romancecar with reserved only seating. See the website for fares, sales locations and other information.

80 minutes
Browse vacant seats for Limited Express Romancecar


Online Purchase System