Here we look at some of the many places you can enjoy using the Odakyu Line.
Learn about new and exciting attractions and then check them out with Odakyu!
Shinjuku: a culinary center

Shinjuku is truly a culinary center. As well as high-class restaurants, it has over 1,000 eating places ranging from tiny shanty-style bars, in Omoide Yokocho near the West Exit and in Golden-gai Street in Kabuki-cho, to large izakaya bars and specialist restaurants serving global cuisines. There are also fresh ingredients as well as luxury Japanese and Western-style confections to be found in the "depa-chika" (the basement floors of department stores where delicatessens are located) at Odakyu Department Store.

Haru Chika

Haru Chika takes its name from the Odakyu HALC basement. As the name suggests, at levels B3F and MB3F of Odakyu HALC, there are Alice in Wonderland-themed restaurants and beer halls, as well as eight unique restaurants arranged as a collection of food stalls specializing in delicious inexpensive foods such as okonomiyaki and yakitori. This area is especially popular with women and young people.

See More

Address

Odakyu HALC B3F and MB3F, 1-5-1 Nishi-Shinjuku, Shinjuku-ku, Tokyo

Tel

URL
Suggested ItinerariesView All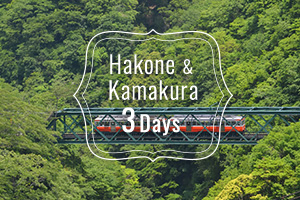 Board the Odakyu Railway for a three-day, two-night tour of the line's best sightseeing locales! The quaint atmosphere of Hakone, the historical capital of Kamakura, and the lovely coastal views of Enoshima—you can see them all with your three-day Hakone Kamakura Pass.
There are many locations along the Odakyu Line known for their spiritual power.

A course well suited for active travelers, where the charms of Hakone, such as the magnifi cent Mt. Fuji, the talked-about the museum and onsens (hot springs), can be experienced in a day.

A 3 day course which will take you to the Fuji area, where you can enjoy a good view of Mt. Fuji, from Hakone. You are sure to enjoy not only sightseeing, but shopping and amusement park as well.

Odakyu Limited ExpressRomancecar
With just the addition of a limited express surchage, use your Discount Pass to enjoy the relaxed comfort of the Romancecar with reserved only seating. See the website for fares, sales locations and other information.

80 minutes
Browse vacant seats for Limited Express Romancecar


Online Purchase System